At Leicester City sombre supporters return to the King Power with no match to be played, united in grief
At around half past midday, the members of security staff at King Power Stadium extended the perimeter around the tributes to the Srivaddhanaprabha family, as more Leicester City supporters arrived to quietly lay shirts, wreaths and flowers.
Vichai Srivaddhanaprabha, the club's Thai owner, is understood to have been one of five people on board the helicopter which crashed nearby the stadium on Saturday night, an hour after Leicester's draw with West Ham United.
As of Sunday evening Leicestershire Police were yet to confirm whether anyone had survived the crash, but the mood on a concourse outside the stadium, where thousands of fans came and went throughout day, was sombre.
An image of the Hindu god Ganesha was among the first tributes to appear. Hundreds more followed, with their own messages of condolence and support.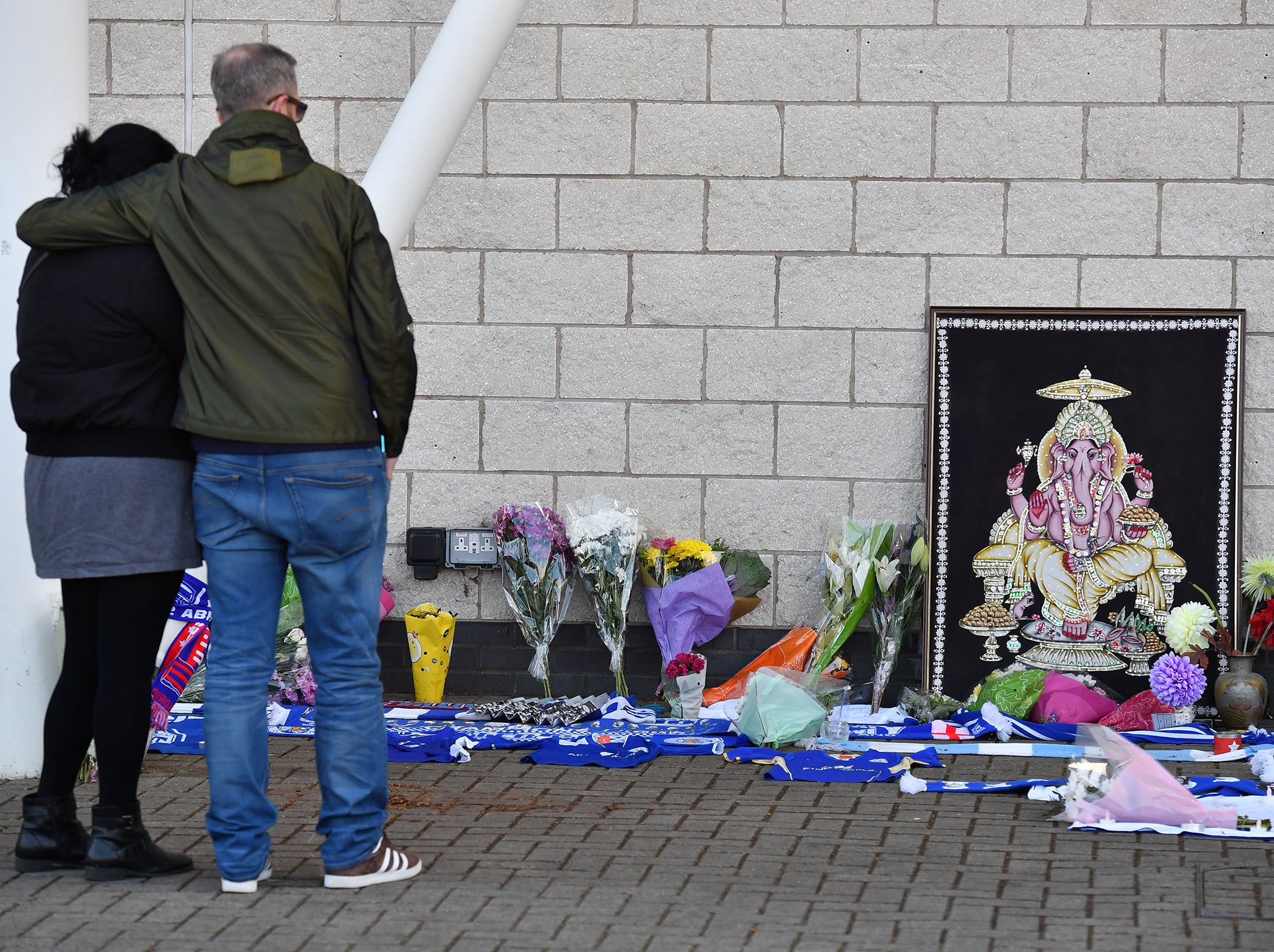 "You made our dreams come true," one read, referencing the club's remarkable Premier League title win from 5,000-1 outsiders in 2016, a story which captured imaginations around the world. "We are heartbroken but forever grateful."
Leicester supporters had gathered in the spot outside the King Power Stadium when those most unlikely of champions were crowned. They returned on Sunday, united in grief.
Ian Dunk, a Leicester fan of 40 years, was one of the many to pay respect. "There are so many owners at football clubs who just seem to be in it for the money," he said.
"These were genuine people that care and put so much into Leicester and the community. He was just a deeply loved man and it's just so sorry. This is the first time I've really felt we have owners who love us back.
"I never come down to things like this but I just had to do something. Football's my life, Leicester City has been my life for so long and what can you do apart from show your respects? My wife is here as well, she's deeply upset. We just had to show some acknowledgement."
Theresa Shearer, another supporter, also feared the worst. She pointed to the Srivaddhanaprabhas' contribution to the city as well as the club. The family, which owns the King Power duty-free retailer, donated £2million to build a children's hospital in the city
"They're not just a name behind something, there's a face and personality," she said. "It's like they say, like a family member really. They've done so much, they're just so kind and giving, they don't want anything back. It's just so sad. They've got time for everybody and everything Leicester.
"My son worked here for a while, a life-long Leicester fan, he's now a football coach," she added. "They give opportunities to people and help them with their dreams."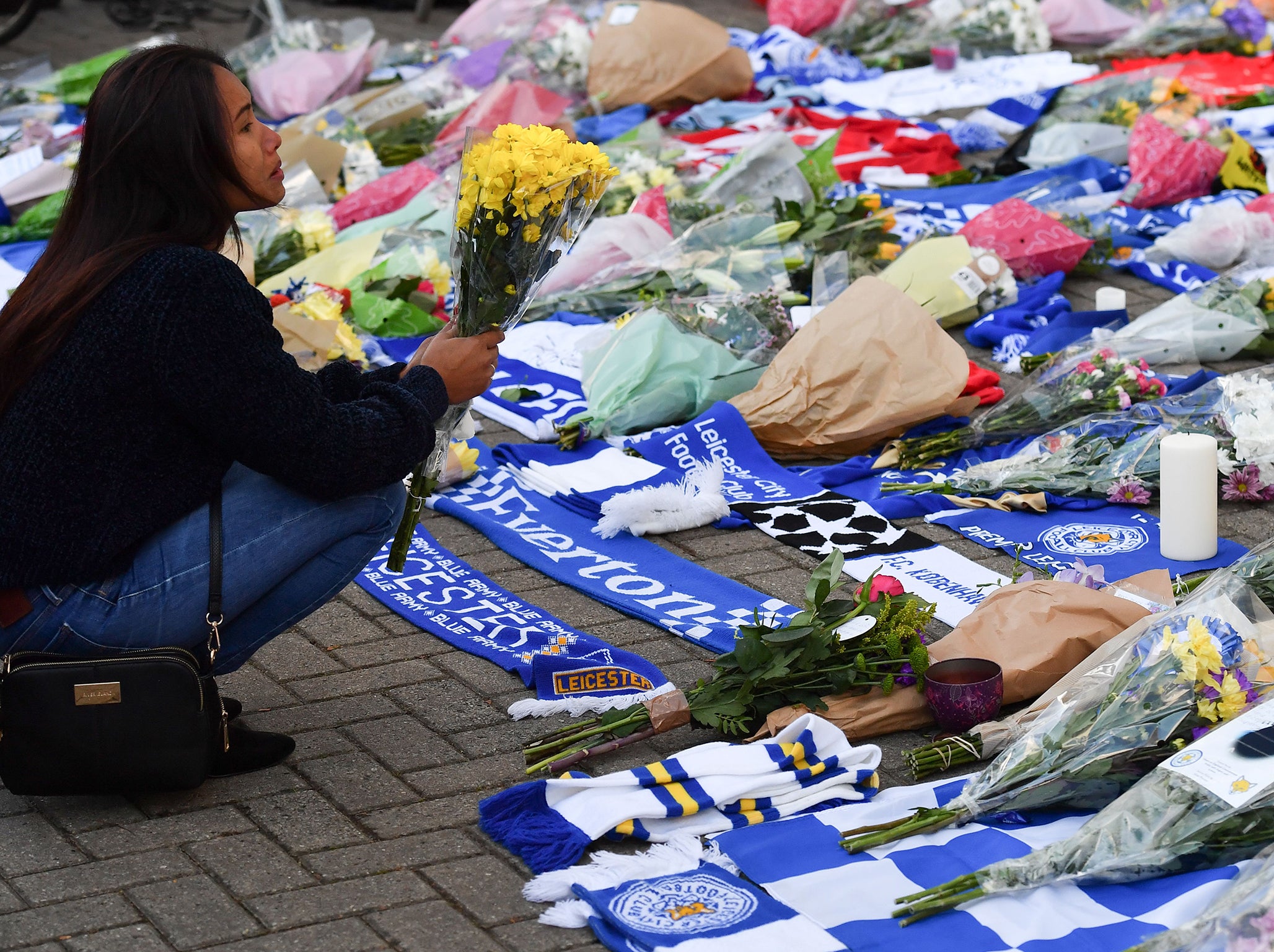 The sense was that this was a community grieving, not just a club. Response pastors from a local church milled around among the supporters, offering a kind word to anyone on their own or seemed visibly upset. They had come down after their usual Sunday morning service to help.
There were the tributes from the wider football world too. Wolverhampton Wanderers, Aston Villa, Coventry City, Liverpool, the two Manchester clubs and even Internazionale were represented by the shirts and scarves on display.
"Football comes together," Dunk said. "We have rivalries, we sing songs at each other but at the end of the day we all love football." His own message read: 'We share your love and we share your pain.' "That's how I felt this morning when I woke up."
Follow the Independent Sport on Instagram here, for all of the best images, videos and stories from around the sporting world.
Source: Read Full Article