Murdoch gives V'landys stamp of approval for second Brisbane NRL team
In his day job running Racing NSW, Peter V'landys operated in a Field of Dreams kind of way: "If you build it, they will come," as the voice inside Kevin Costner's head told him in the famous movie.
So Costner turned his corn field into a baseball field and the rest was on-screen history.
Like Costner's character, V'landys couldn't ignore the voice inside his head. He could have rolled the racing calendar over, year after year, and the sport would have floated along. Or, he could turn the caper on its head and come up with The Championships in autumn and, later, The Everest in the spring.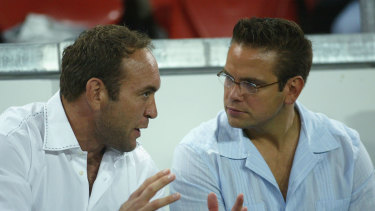 Gorden Tallis and Lachlan Murdoch locked in discussion in 2004.Credit:Getty
Which is why there will be no Perth franchise in an expanded NRL. What there will be is a 17th team – and it will be in Brisbane.
And, it will be a new team – not a reheated North Sydney Bears belatedly relocated two decades after their death. Those advocating that are dreaming.
V'landys' sole vision is for a new 17th team in Brisbane. But, unlike racing, where he was able to crash his ideas through, in this quest he needs the approval of one man to get it done: Lachlan Murdoch.
We saw proof of that in a small item in last weekend's papers, in which Foxtel boss Patrick Delany gave a public endorsement of a second Brisbane franchise.
Why does it matter whether Delany approves of a second Brisbane team or not?
Because Foxtel is majority-owned by News Corporation, and News Corp is the controlling shareholder of the publicly listed Brisbane Broncos Ltd, and has been for more than two decades.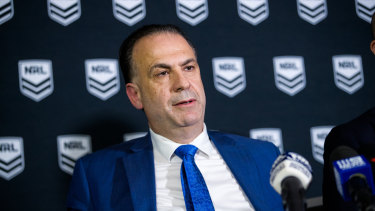 Australian Rugby League Commission chairman Peter V'landys.Credit:Edwina Pickles
Forget who anyone else is at the Broncos: it's Lachlan's team.
And when big decisions are made – such as the axing of Wayne Bennett as coach, or a change on the club's board – the final decision is signed off on by Michael Miller, the chief executive and chairman of News Corp in Australia and Murdoch's right-hand man in this country.
As chairman of the Australian Rugby League Commission, V'landys knows he must navigate carefully because of the code's reliance on money from rich broadcast deals. The entire game survives on these deals. The existing five-year arrangement, worth $1.8 billion, expires at the end of 2022.
Peter V'landys has revolutionsed racing in Sydney with the advent of The Everest, won here by Glen Boss on Yes Yes Yes (second from left) last year.Credit:Getty
V'landys, like all chairmen and CEOs in Australia's major sporting codes, will be judged on the strength of the broadcast deal they do. He must get more for the next five-year term.
An extra Brisbane game every week will allow the game to ask for more for the rights, and keep the wolves from the doors of the CEO and chairman.
But, the second Brisbane team will only happen if News Corp approves of it. That's because of Lachlan's love of the Broncos. He fell in love with them way back in 1994 when his father, Rupert, sent him from Princeton University to become the general manager of Queensland Newspapers to cut his teeth in the media empire.
By the end of that season, young Lachlan sported a Broncos jersey at home games. News eventually went from sponsoring the team to owning it.
Then came Super League …
A second Brisbane franchise could seriously harm the monopoly the Broncos have in the league-mad city. And annoying Lachlan and News Corp could stifle negotiations for the broadcast rights and knock around the final figure the game can achieve.
As Raelene Castle and Rugby Australia have done, the NRL will take the broadcast rights to the wider market, including to streaming giants Amazon and Netflix. The more that are interested, the better.
News Corp is vital in this process: V'landys needs them competing for pay TV and streaming rights with the new players, just as he needs existing broadcaster Channel Nine to be competing with channels Seven and Ten for free-to-air rights.
As reported in the Herald on Thursday, V'landys met with Murdoch recently in the US. Take it as read that V'landys has received Lachlan's seal of approval to expand into Brisbane.
The city will have a second team.
Source: Read Full Article