Morris knows Hasler's Manly plan like back of his hand
If anyone knows how Des Hasler will go about preparing his team for a backs to the wall clash with Cronulla, it's Josh Morris.
The pair were part of five straight finals campaigns during their former lives at the Bulldogs, falling at the final hurdle twice – against the Storm in 2012 and Rabbitohs in 2014.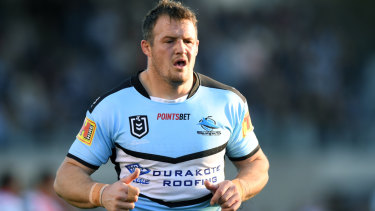 Josh Morris knows Des Hasler's finals tactics all too well, having played under the master coach for years at the Bulldogs.Credit:AAP
"He will be studying a fair bit of video. His video sessions are intense and detailed. They would've done a fair bit of work on us," Morris said. "He likes to go back to historical dates.
"He prepares well and gives those inspirational speeches throughout the week.
"Sometimes the boys felt like playing on captain's run after the final speech. He will have them ready to go."
Hasler's doesn't mind a left field selection idea at this time of year, either.
This year, that left field selection is T-Rex Tony Williams, one of Morris' former teammates at Canterbury.
"[Hasler] has certainly has got the best out of T-Rex over the years," Morris said. "With him giving T-Rex a shot, he will be looking to repay his faith.
"When he is in a damaging mood he is pretty hard to stop. If he winds up he normally skittles a couple of people. He has a late off-load as well.
"We are expecting him to play and have a big one."
Josh Morris scores during last week's win over the Tigers, which was a final in itself for Cronulla.Credit:Getty Images
Morris is well versed in the threat Williams poses should he be called into Hasler's best 17 but the Sharks don't view Lottoland as a threat to their finals hopes despite an abysmal five wins from the 46 matches played between the two clubs at the famous ground.
Cronulla players addressed the lack of success at Lottoland before Morris dismissed any talk of the Northern Beaches hoodoo.
"Most of the squad haven't played there in a Sharks jersey," Morris said. "We are not worried about it at all.
"From our perspective it's naught-naught there. So we need to get the job done. Obviously you guys [media] are going to bring it up so we knew it was coming.
"There were more than half the guys in the room that haven't played in a Sharks jersey at Brookvale. We can't worry about a hoodoo or anything like that when we haven't played there or been part of it."
Source: Read Full Article