Giannis Antetokounmpo stars with triple-double as Milwaukee Bucks beat Philadelphia 76ers
Giannis Antetokounmpo produced the 10th triple-double of his career as the Milwaukee Bucks handed the Philadelphia 76ers a 123-108 loss.
Wednesday night's scores
Philadelphia 76ers 108-123 Milwaukee Bucks
Giannis Antetokounmpo had 32 points, 18 rebounds and 10 assists to lead the Milwaukee Bucks past the visiting Philadelphia 76ers 123-106 on Wednesday night.
It was the 10th triple-of Antetokounmpo's career. In addition, he has scored at least 25 points and grabbed 15 rebounds in each of the Bucks' first four games. The last time a player accomplished this feat to start a season was Wilt Chamberlain in 1965-66.
Khris Middleton scored 25 points and Brook Lopez added 21 for the Bucks, who remained unbeaten at 4-0 for just the third time in franchise history.
Joel Embiid led the Sixers with 30 points and 19 rebounds while becoming the first Sixers player to open a season with five straight double-doubles since Charles Barkley in 1991-92. JJ Redick added 19 points.
Ben Simmons returned from a one-game absence with a sore back to post 14 points, 13 rebounds and 11 assists. Simmons now has two triple-doubles this season and 14 in his career.
Dario Saric had 15 points for the Sixers, who dropped their second in a row as the Milwaukee Bucks improved to 4-0, their best start since the 2001/02 season.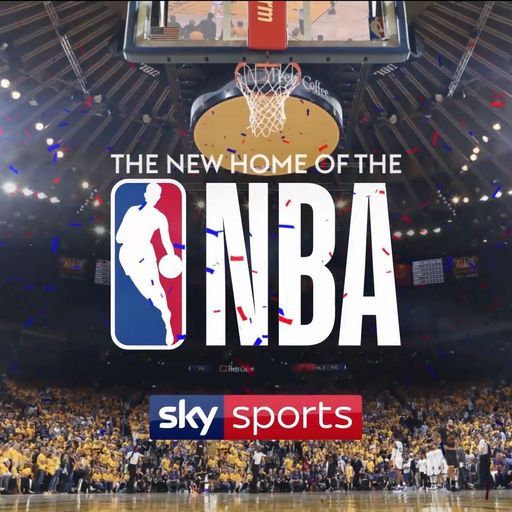 Follow Sky Sports NBA on Twitter
See the NBA's best plays and stay up to date with the latest news
Minnesota Timberwolves 105-112 Toronto Raptors
Kawhi Leonard scored 35 points and added five rebounds to help the undefeated Toronto Raptors defeat the visiting Minnesota Timberwolves 112-105.
The Raptors have opened the season with five straight wins for the second time in franchise history, matching their start in 2015-16.
Kyle Lowry had his third consecutive double-double for Toronto with 13 points and 10 assists. Jonas Valanciunas added 16 points and nine rebounds, Serge Ibaka scored 15 points and Norman Powell had 10 points.
The Raptors have won 15 consecutive home games against the Timberwolves, who last won in Toronto on January 21, 2004.
Jimmy Butler led the Timberwolves with 23 points while Derrick Rose had 16, Karl-Anthony Towns had 14 points with eight rebounds and Taj Gibson had 13.
Dallas Mavericks 104-111 Atlanta Hawks
Veteran guard Kent Bazemore scored a season-high 32 points to help the Atlanta Hawks to a 111-104 home win over the Dallas Mavericks, giving first-year coach Lloyd Pierce a victory.
Bazemore's three-pointer with two minutes left gave Atlanta a 103-101 lead and helped the team come back from a 25-point, first-half deficit. Bazemore followed with a dunk the next trip down the floor and Dallas never got closer than three points.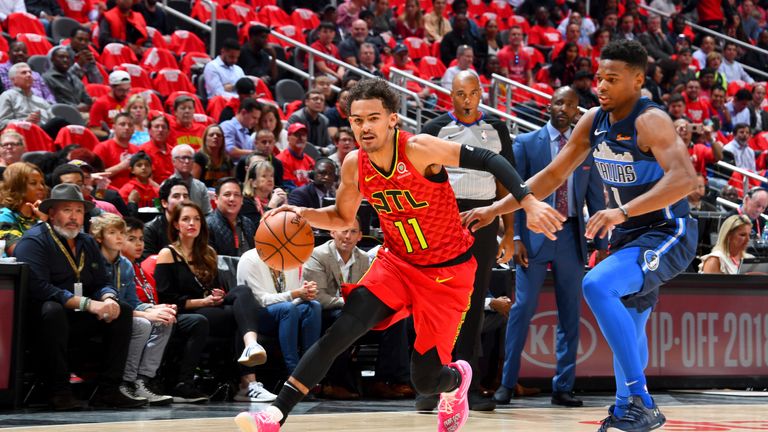 Bazemore, 29, was 12-for-22 from the field, including three treys, and added seven assists and three steals.
The rookie matchup between Atlanta's Trae Young and Dallas' Luka Doncic was a draw. The two were first-round choices in the 2018 Draft who were traded for each other in an oft-discussed transaction.
Doncic scored 21 points, shooting 7-for-18 with two three-pointers and 16 rebounds. Young, who was coming off a 35-point performance against Cleveland one night earlier, scored 17 points with five assists and four rebounds. Young shot 10-for-13 at the free-throw line, including 8-for-9 in the final five minutes.
Brooklyn Nets 102-86 Cleveland Cavaliers
D'Angelo Russell scored 18 points, and the Brooklyn Nets ended a 10-game road losing streak to the Cleveland Cavaliers by pulling away in the third quarter for a 102-86 victory.
Russell scored 15 of his points before the Nets dominated the third quarter by a 38-17 margin.
Joe Harris put up seven of his 16 points in the third while Jared Dudley contributed nine of his 12 points in the decisive quarter. Harris and Dudley were a combined 6-of-6 attempts from the floor in the third.
Jarrett Allen, Caris LeVert and reserve Ed Davis added 10 apiece for the Nets, who shot 43.7 per cent from the floor and hit 41.2 per cent (14 of 34) from three-point range.
Kevin Love led winless Cleveland with 14 points and 11 rebounds but shot 4-of-9 and did not take a shot during the decisive third quarter. Jordan Clarkson and rookie Collin Sexton also scored 14 points apiece for the Cavs.
New York Knicks 87-110 Miami Heat
Hassan Whiteside posted 22 points, 14 rebounds and three blocks as the host Miami Heat dominated the New York Knicks 110-87.
Heat guard Josh Richardson added 21 points and eight rebounds. Rodney McGruder, Miami's most surprising player so far this season, continued his good run with 19 points, six rebounds and four assists.
Miami, leading by just two points at half-time, outscored New York 45-20 in the third quarter to put the game away. Miami made 75 per cent of their third-quarter shots, including 8-of-10 on three-pointers.
The game marked the return to Miami for Knicks shooting guard Tim Hardaway Jr and coach David Fizdale. Hardaway's father starred for the Heat for years. Fizdale was a Heat assistant coach from 2008-16.
Hardaway scored a season-low 14 points in 23 minutes, making 4-of-10 shots, including 2-of-5 on three-pointers. He came into the game averaging 27 points, but did not half a second-half field goal.
The Knicks were led by Damyean Dotson, who had a team-high 20 points off the bench. Reserve Mario Hezonja added 13 points. But Knicks starting guard Trey Burke was indicative of New York's struggles as he shot just 1-of-10 from the floor.
Charlotte Hornets 110-112 Chicago Bulls
Zach LaVine scored 32 points, including a pair of decisive free throws with 0.5 seconds left in the fourth quarter, as the Chicago Bulls held on for a 112-110 win over the visiting Charlotte Hornets.
LaVine joined Michael Jordan (1986) as the only players in franchise history to start a season with four consecutive games of 30-plus points. He drove to the paint in the final seconds to draw a foul with the score tied at 110, and calmly made both free throws to lift Chicago to its first win.
Kemba Walker scored 23 points to lead the Hornets, who have lost back-to-back games. Cody Zeller added 14 points, and Nicolas Batum contributed 13 points.
LaVine missed a jump shot from the top of the key with less than 10 seconds left that could have put the Bulls on top. Hornets forward Malik Monk grabbed the rebound before Charlotte quickly called a timeout to set up a final play. LaVine foiled the plan, interrupting the inbounds pass and forcing a Charlotte turnover with 5.1 seconds remaining. That set up LaVine's final heroics.
Utah Jazz 100-89 Houston Rockets
Donovan Mitchell paired 38 points with seven assists as the Utah Jazz overcame 18 turnovers in a 100-89 road victory over the Houston Rockets, who saw star James Harden exit due to hamstring tightness.
Mitchell proved instrumental in helping the Jazz fend off the Rockets throughout. His three-pointer with 4:36 left in the fourth quarter extended the Utah lead back to double digits, and Mitchell followed with a nifty pass over the defense that Rudy Gobert (12 points, 13 rebounds) converted into an alley-oop and a 91-79 advantage.
The Rockets, playing without Harden down the stretch, failed to muster another response and fell to 0-2 at home on the season.
Harden left for good at the 5:19 mark of the fourth quarter. Rockets coach Mike D'Antoni said postgame Harden would be re-evaluated Thursday to assess his status. Harden had team highs of 29 points and seven assists but also logged seven turnovers.
Indiana Pacers 116-96 San Antonio Spurs
Victor Oladipo poured in 21 points and Domantas Sabonis added 16 points and 10 rebounds off the bench as the visiting Indiana Pacers led throughout on the way to an easy 116-96 victory over the San Antonio Spurs.
Oladipo tallied 20-plus points for the fourth consecutive game as the Pacers earned their first on the road in three tries this season. Indiana outshot the Spurs 52.9 per cent to 40.2 per cent and canned 17 of its 32 shots from beyond the three-point arc.
Seven Indiana players scored in double figures. Tyreke Evans had 19, Thaddeus Young hit for 14, Cory Joseph tallied 12 and Myles Turner and Doug McDermott added 10 for the Pacers, who beat San Antonio for the fourth straight time.
DeMar DeRozan led the Spurs with 18 points while LaMarcus Aldridge (15 points and 13 rebounds) and Rudy Gay (11 points, 10 rebounds) had double-doubles. Marco Belinelli added 16 and Bryn Forbes contributed 15 points for San Antonio.
Los Angeles Lakers 131-113 Phoenix Suns
LeBron James won his first game as a Laker, finishing with 19 points, seven rebounds and 10 assists in a 131-113 victory against the host Phoenix Suns.
Lance Stephenson had 23 points, eight rebounds and eight assists off the bench, and JaVale McGee led five starters in double figures with 20 points. Kyle Kuzma scored 17 points and Josh Hart made his first start of the season for Los Angeles, scoring 15.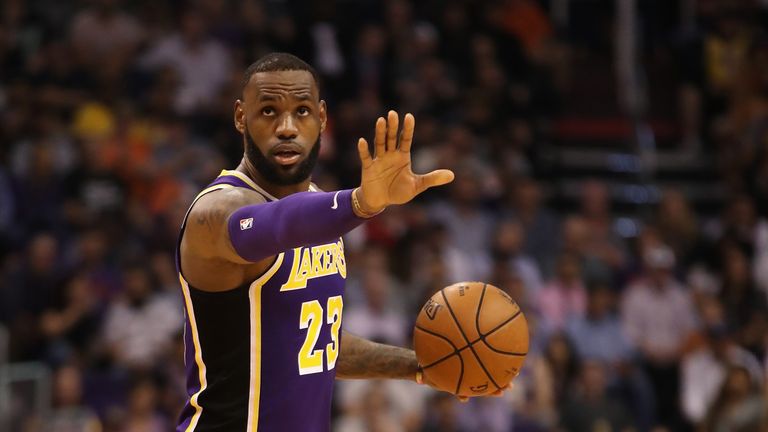 Phoenix guard Devin Booker scored 23 points before leaving with a strained left hamstring late in the third quarter. Deandre Ayton had 22 points and 11 rebounds, and Tyson Chandler had 14 points and 11 rebounds off the bench.
Memphis Grizzlies 92-97 Sacramento Kings
Buddy Hield recorded 23 points and seven rebounds to help the host Sacramento Kings notch a 97-92 victory over the Memphis Grizzlies.
De'Aaron Fox contributed 21 points, eight rebounds and six assists for the Kings. Willie Cauley-Stein posted 15 points and 10 rebounds, Marvin Bagley III scored 13 points, and Nemanja Bjelica had 11 points and 11 rebounds.
Mike Conley scored 27 points for Memphis, who had a two-game winning streak snapped. Jaren Jackson Jr scored 14 points before fouling out, Wayne Selden added 13, and Marc Gasol had 10 points and 10 rebounds before departing with an apparent shoulder injury.
Memphis led 80-78 after Conley's basket with 9:21 left before the Kings rolled off 11 consecutive points to take a nine-point lead.
Conley's basket with 3:45 left ended the Grizzlies' drought of 5:36 without a point. He later scored another hoop to bring Memphis within 92-86 with 2:10 remaining. Cauley-Stein scored in the interior with 1:04 left and Fox split two free throws with 43.2 seconds left to restore the nine-point lead.
Conley drained a three-pointer with 15.9 seconds remaining to pull Memphis within 95-89, but Cauley-Stein hit two free throws with 8.7 seconds remaining as Sacramento closed it out.
Washington Wizards 122-144 Golden State Warriors
Stephen Curry became just the fourth NBA player in the last 10 years to score 50 or more points in the first three quarters of a game, pouring in 51 in the Golden State Warriors' 144-122 victory over the Washington Wizards.
Curry sandwiched an eight-point second quarter with a 23-point outburst in the first quarter and a further 20 points in the third period.
Curry did not play in the fourth quarter, finishing three points under his career high of 54.
Curry did a majority of his scoring on three-pointers, hitting 11 of 16, the sixth time in his career that he has made 11 or more. His career high is 13.
Kevin Durant added 30 points and Thompson 19 for the Warriors, who improved to 3-0 at home this season.
Bradley Beal had 23 points to lead the Wizards, who were coming off an overtime victory at Portland on Monday night.
Sky Sports is the new home of the NBA in the UK with live coverage throughout the week, including selected live games free to all Sky subscribers via Sky Sports Mix.
And www.skysports.com/nba will be your home for news, reports, video and features throughout the season while you can follow us @SkySportsNBA
Source: Read Full Article