'We just took one of their best players': Kings add fuel to growing NBL rivalry
Sydney superstar Andrew Bogut can't wait to play with Casper Ware this coming season, rather than against the talented American, in a signing that will only fuel the growing NBL rivalry between the Kings and Melbourne United.
Californian Ware has been one of the best point guards in the league over the past three seasons, winning a string of honours including the 2018 championship and three straight selections in the All-NBL First Team.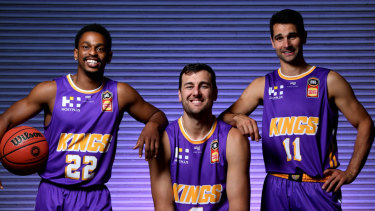 Casper Ware, Andrew Bogut and Kevin Lisch will all be key to Sydney's hopes this season.Credit:AAP
The Kings have lured him to the harbour city ahead of the 2019-20 season, which commences this week, and Bogut could barely hide his excitement.
"It is going to be very very exciting playing with him this year, he was always a tough match-up for us in the regular season one and of the few two-way guards who can get your 30 [points] and keep a guy under 10," Bogut said.
"I feel like everyone we have on this roster will have different moments throughout the season where they will be able to get out there and play, rather than just having a set roster of 'these are our seven or eight guys'."
Ware, a former NBA guard, is renowned for his ability to both score in bunches and set up his teammates, as well as play strong defence.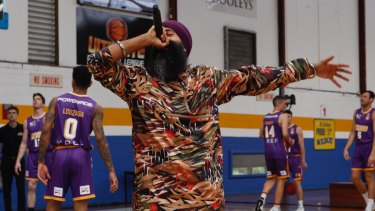 Hip Hop artist L-FRESH The Lion performs at the Kings' season launch. Credit:Dean Sewell
The additions of Ware and Louzada show the league is moving in the right direction, new Kings coach Will Weaver said.
"The number of scouts we saw visit at the Tasmania pre-season event reflects how many good players are here and increasingly you are seeing players not only from overseas choosing the NBL but players in the NBL choosing to return," Weaver said.
The new coach has promised to play a style of basketball that allowed his players to express themselves, starting with their season opener against the Taipans on Friday before returning for their first home game against the 36ers on October 12.
Source: Read Full Article