AFL pledges league-wide racism 'response' will happen; 'Amy' unmoved by AFL stance
The AFL says it is working towards a league-wide "response" into the handling of racism, paving the way for four of the First Nations families involved in the Hawthorn saga to take part in a league probe.
However, lawyers representing "Amy" (a pseudonym), another of the families involved in the Hawthorn case who will not participate in the investigation, said on Saturday the AFL's latest response had not changed her mind.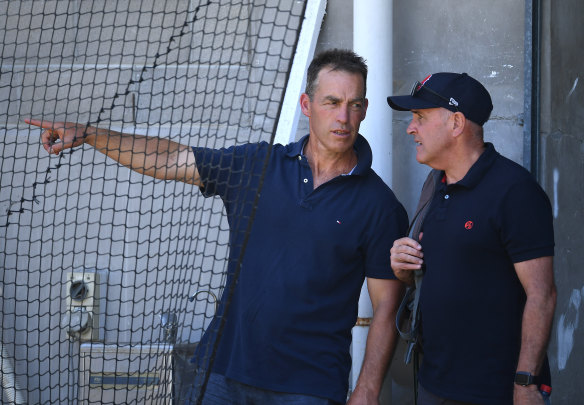 Fighting to clear their names: Alastair Clarkson and Chris Fagan are ready to appear before a four-person panel investigating racism claims at Hawthorn. The two men have strenuously denied all allegations.Credit:Getty Images
Lawyers for the four families on Friday called on the league to begin an independent investigation into the AFL's handling of racism, deeper than the claims that have been made against the Hawks between 2008-16, including against former coach Alastair Clarkson and football department chief Chris Fagan. Clarkson and Fagan have denied the allegations.
The AFL on Saturday confirmed in a statement that it was working on a "wider response", and said a number of participants had agreed to be involved in their investigation, based on its original terms of reference, and it had "not come to any separate agreements" with anyone to appear.
The four families on Friday said they would only participate in the Hawks' review should the AFL act on a broader league investigation into racism and acts of bullying. Sources close to the families told The Age on Saturday before the league released its statement that as they realised a league-wide review was a significant and lengthy process, they were initially after a good faith commitment from the league, for them to deal with the four-person panel.
Sources close to the families were contacted for comment after the league released its statement. However, league sources now believe the families have been given the sign of "good faith" they wanted. The AFL did not clarify whether their "response" would be a detailed investigation and report.
A four-person panel of Bernard Quinn KC, First Nations barristers Jacqualyn Turfrey and Tim Goodwin, and human rights barrister Julie Buxton will conduct the league's investigation.
"As we announced when we released the terms of reference for the independent investigation, the AFL is committed to working together as an industry to co-ordinate a wider response that ensures we have a culturally safe environment across all our clubs and within the AFL industry," the AFL said on Saturday.
"It is important to note that the wider industry response that was previously announced is a separate piece of work that will continue to be worked on by the AFL and, while it will be informed by the panel's work, it is not part of the independent investigation process."
Lawyer Michael Bradley, the managing partner of Marque Lawyers, representing "Amy", whose partner was drafted to Hawthorn and who said she suffered appalling treatment, said his client needed greater "safety".
"We've made it clear from the outset that, as a minimum requirement, this needs to be conducted completely independently of the AFL. It isn't Amy's responsibility to design this, however. She didn't ask for any of this. Nevertheless, she remains open to participating in a process that affords her appropriate safety and would advance her goal of ensuring that what happened to her never happens again. There is nothing on the table at present that meets those standards," Bradley said.
Bradley said, however, that a league-wide review was needed.
"The AFL has committed to running an independent investigation of allegations of racism referred to the AFL by the Hawthorn Football Club that provides a supportive and respectful process for those impacted, and natural justice to those people against whom allegations of misconduct have been made," the AFL said.
"We confirm that a number of participants have advised they will take part in the investigation, chaired by Bernard Quinn KC and acknowledge it is their decision based on the terms of reference released on October 20, 2022. The AFL has not come to any separate agreements with any participants in relation to the terms on which they take part in the investigation.
"The work by the four-member panel has already begun and will continue to work with the various participants."
Legal sources involved in the Hawks case say clubs should endorse a major "response", this providing a platform to update their policies and procedures, thereby making the sport "culturally safer". Legal sources say clubs have seen the ferocious spotlight that has been shone on Collingwood, through the Do Better report, and now the Hawks, and a league-wide review would ensure other clubs do not face such focus.
It has been pointed out club directors must provide employees with a safe workplace, which a review would help strengthen, while it would potentially avoid future legal claims if there was a truth telling and healing process.
Open Letter to the AFL by former Hawthorn Football Club players and their families*
To: AFL Commissioners and Gillon McLachlan
You have asked us to participate in the AFL's investigation into allegations of racism at the Hawthorn Football Club. We have reservations about that process and share many of the concerns expressed by Amy**. However, we also want to make sure our experiences will never be repeated and that is why we have taken our time to carefully consider our position.
We do want to tell our truths to a panel of independent investigators in a culturally safe environment.
But the issue of racism in the AFL cannot be dealt with by a narrowly targeted investigation on a club-by-club, or crisis-by-crisis, basis.
That may protect the AFL's image and reputation in the short term, but it does not address our concerns, which won't go away with a limited investigation of Hawthorn.
We want the AFL to take a good hard look at itself and how it has dealt with racism in the past. Not because we want to trawl over a 100 years of neglect, or conduct a witch-hunt or to bring legal claims, but because we want the AFL to be a safer place for our children and all First Nations children who dream of playing AFL football.
In our cultures the past shapes and determines our future.
We ask as part of this process for the AFL to independently investigate how AFL policies, procedures and practices can be improved. We want to help educate AFL coaching staff, players and umpires about our cultures and our peoples and set KPI's to annually test whether the AFL is doing better in relation to racism. For once and for all.
Today we have decided to participate in the AFL Independent Investigation on the basis that the AFL is also committed to independently look at its own failings and promises to all First Nations families it will do better as a result. And we appreciate this will take more time to complete than a Hawthorn focused investigation.
To the AFL Clubs' boards of directors, tell the AFL not to sweep this crisis under the carpet as merely a Hawthorn problem. It's not just a Hawthorn problem, just like it wasn't just a Collingwood problem. Address the issue of racism in the AFL directly and purposively. The next crisis may be yours.
To those First Nations Players and their families who have previously been racially vilified, and hurt by the AFL's failures and silences, please lend your voices to our call to the AFL to do better. You inspire us. We stand shoulder to shoulder with you.
* This statement is made only on behalf of those persons represented by ABL.
**See statement released by Marque Lawyers on 2 November 2022.
Most Viewed in Sport
From our partners
Source: Read Full Article