Tomljanovic angry with Kyrgios question after Wimbledon quarter-final loss
London: Australian star Ajla Tomljanovic has expressed her disgust at the questioning directed at her about former partner Nick Kyrgios immediately after her exit at Wimbledon.
Tomljanovic's strong campaign at the All England club ended in a 4-6, 6-2, 6-3 quarter-final loss to 17th seed Elena Rybakina – the second-straight year her tournament has finished at this point.
She was clearly frustrated on court, having wasted an opportunity to banish last year's memory of losing to eventual winner and former world No.1 Ashleigh Barty.
The world No. 44 had expected the opening question at her post-match press conference to be about her game. Instead, a reporter from The Times of London asked about her past relationship with Kyrgios, the latter having this week been summoned to court in Canberra after he was accused of allegedly assaulting his former girlfriend, Chiara Passari.
"I'm not really aware of what's being said, the allegations," Tomljanovic replied, before the reporter, who said he had been "sorry" to immediately broach the Kyrgios subject, provided brief details of the case.
"It's been a while since our relationship ended. Obviously, I've always kept my relationship very private. I would like to keep it like that. I'm definitely against domestic violence. I hope it gets resolved. But, yeah, I mean, I haven't had that experience with him."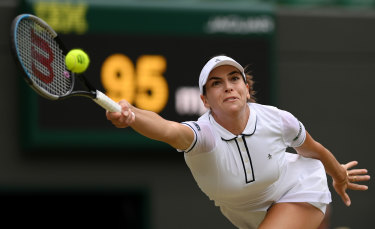 Ajla Tomljanovic had a frustrating loss to Elena Rybakina in a Wimbledon quater final.Credit:Getty Images
Tomljanovic and Kyrgios had been a couple for two years before splitting in 2017.
She later took to social media to declare her disappointment with how the press conference had unfolded.
"Quite disappointing that after almost 2 hours of playing my quarterfinals that that was the first question the journalist chose to ask me, and never proceeded to ask anything match related," she wrote on Twitter.
"Glad to see headlines mostly about that now. Do better."
Tomljanovic will strive to translate the success of back-to-back Wimbledon quarter-finals into continued deeper runs at the majors, adopting a glass half-full outlook.
It was a case of what could have been for Tomljanovic had the upper hand against Rybakina before the Kazakh found her groove at the critical juncture of 2-2 in the second set.
From there Russian-born Rybakina reeled off seven straight games as Tomljanovic, suddenly on the back foot, had to settle for winning individual points only.
As Rybakina gained a stranglehold on the match and moved to within sight of victory, Croatian-born Tomljanovic showed late resistance, gallantly breaking her opponent at 5-1 down, but the damage was done.
"It was too far gone. I mean, that 3-5 game [when Rybakina was serving for the match], again, she served crazy good," Tomljanovic said.
In contrast to Tomljanovic's final-eight clash last year when Barty wiped her off the court, Wednesday's match was opportunity gone begging for the Australian. Tomljanovic was entitled to victory just as much as Rybakina, provided that she played well enough for often enough.
While there may be no rankings points on offer from the All England club this year, Tomljanovic, who had spoken about the support she had received from the grand slam great Chris Evert, said she was instead grateful to the boost to her career stocks after a deep run.
"I'm really proud of the fact that I managed to play back-to-back quarters," Tomljanovic said after the 6-4, 2-6, 3-6 defeat in nearly two hours on court one.
"I think that's something that I'll be proud of no matter what. But [it's] a bit of a different feeling than last year just because I really felt like I was in this match. I came in really believing that I could win, where maybe that wasn't the case last year. That's what's just extra disappointing."
Back in the day: Ajla Tomljanovic and Nick Kyrgios share a moment together at the Miami Open in 2017.Credit:AP
Tomljanovic has yet to finalise her immediate tour plans. But the United States hardcourt swing and the next slam on the calendar, the US Open in New York, loom on the horizon.
"The good thing is that I'm playing good tennis, and I don't see why I can't put myself out there again in the next slam or whenever," she said.
"I definitely think it's been a step forward, and I can just build off of that."
The Florida-based Australian who applied for local citizenship in 2014 is, along with another top 100 player Daria Saville, doing her best to fill the chasm in Australian tennis created by the sudden retirement in March of Barty.
Foregoing a rankings lift that comes with a major quarter-final berth, Tomljanovic was less perturbed by the unusual situation post-match compared to when she had raised the strange circumstances ahead of Wimbledon.
Tomljanovic had entered two upcoming ATP tournaments, next week's event in Budapest and the tournament in Palermo, Italy, the week after, but they are likely to be off the agenda.
"I don't like chasing points. I entered that [those two events] just because if I had gone down early here, I would have played because I felt hungry and ready to play," Tomljanovic said.
"I would need a break now, and my body just needs a bit of a rest."
Watch all the action from Wimbledon ad-free, live & on demand on Stan Sport, with Centre Court matches streaming in 4K UHD. Coverage of select matches commences on 9GEM from 9:30pm AEST each night.
Most Viewed in Sport
From our partners
Source: Read Full Article