Manchester United's mini injury crisis offers Mason Greenwood opportunity

They say that through every crisis comes an opportunity. And though it would be premature to describe Manchester United's current injury problems in such extreme terms, they may present Mason Greenwood with a chance worth taking.
It has already been a memorable week for the 19-year-old, who signed a new contract on Tuesday designed to keep him at Old Trafford until at least 2025. Having previously taken home a relatively modest wage for a player of his potential, he will now earn a salary commensurate to his 82 senior appearances so far.
Greenwood was surprised by that figure when it was put to him upon the announcement of his new deal. "I didn't even realise I'd played that many games. I thought it was a bit less than that," he said. He is likely to hit a century before his 20th birthday.
Read more: Ole Gunnar Solskjaer sets out timeline for Paul Pogba's injury return
It has been a remarkable rise, but the majority of Greenwood's minutes have come out of his natural position and as a stop gap in a role that United have long struggled to fill.
The lack of an established presence on United's right wing dates back to Nani's departure and Antonio Valencia's conversion to a full-back some seven years ago. Things could have finally changed last summer, but the pursuit of Jadon Sancho proved unsuccessful.
Ole Gunnar Solskjaer has instead had to mend and make do this season. Marcus Rashford has looked uncomfortable when deployed there in recent weeks. Juan Mata and Daniel James have never been able to take their opportunities to hold the spot down.
Independent Football Newsletter
Get the latest football headlines direct to your inbox twice a week
Read our full mailing list consent terms here
Amad, the £37m teenage signing from Atalanta, may prove to be the long-term solution and is close to making his first appearance but even so, he will have to be eased in. For now, Greenwood has the misfortune of being the best fit.
"I don't mind," he insisted on Wednesday, when asked about his deployment out on the right. "I could play anywhere across the front three, I can play on the right, up front and even sometimes on the left.
"For me it's just about adapting into any position I go in. If it's up front or on the right I don't really mind really, I'll take it as they come."
Solskjaer sees even more possibilities for him. "Mason was a bit shy there because he can play No 10 as well, as a shadow striker," he insisted. "We just have to give him time to find his final position. He's a forward who moves really well along the line at the moment."
That might be true, but nearly two years on from his debut, it is difficult to look at Greenwood and see anything but a natural born centre-forward.
His most eye-catching talents are his preternatural finishing and his capacity to shoot with both feet, which makes him not only a lethal but unpredictable presence for opposition defences to manage.
That was what stood out during his breakthrough season last year when, even while playing from the right wing, he was scoring every 152 minutes he played.
This season, the goals have dried up somewhat. His equaliser in the FA Cup fourth round defeat of Liverpool was only his fourth of the campaign, and this has placed greater scrutiny on other aspects of his game.
When it comes to build-up play, setting up team-mates with shooting opportunities and all-round creativity at senior level, he is still learning and developing.
Solskjaer made a point of mentioning how Greenwood's general play has improved on Tuesday, but it remains the case that United's attack is heavily lop-sided. Only 31% of their forays forward come down the right, the lowest proportion of any Premier League side.
Greenwood playing out of position is far from the only factor in that and if anything, he has coped admirably well for a teenager who is more comfortable when converting chances rather than creating them.
But finally, there is potential for that to change in Turin on Thursday, when United's Europa League campaign begins against Real Sociedad at a neutral venue due to coronavirus travel restrictions.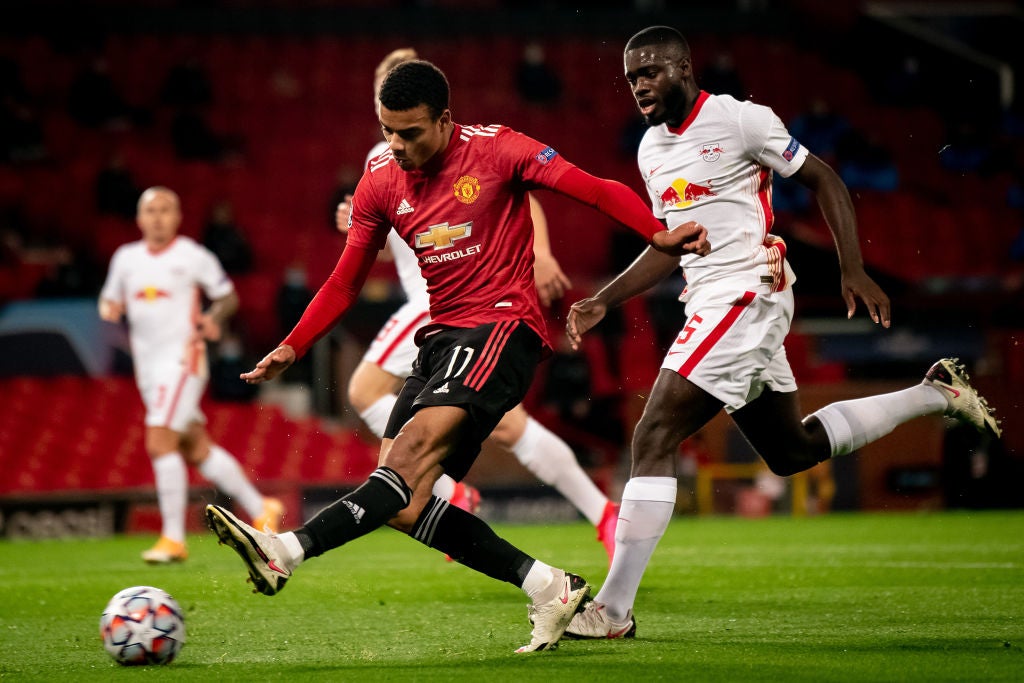 Shortly before flying out to Italy, Solskjaer revealed that both of United's usual centre-forwards could be missing at Juventus' Allianz Stadium.
Edinson Cavani – like Donny van de Beek – will be staying in Manchester due a muscular injury, while Anthony Martial's fitness is set to be assessed in the hours before the early evening kick-off.
If Martial is unavailable, the United manager will be left with little option but to choose between either Rashford or Greenwood as a central striker, or potentially play both as a pair.
Solskjaer suggested on Tuesday that he has shied away from playing Greenwood up front in the past because of his age and relatively slight build. "Sometimes you don't want to be right up in the mix and in the middle with the big brutal centre backs next to you," he said.
But now, with a new contract signed and United's usual focal points either half-fit or unavailable, it may be time to give Greenwood more of an opportunity in the role he is destined to fulfill one day.
United have an exciting, young centre-forward on their hands – perhaps one of the best out-and-out finishers of his generation – and through this mini injury crisis, they also have an opportunity to remind everyone of that.
Source: Read Full Article