First it was the winter blues, now PMD: post-Matildas depression
Save articles for later
Add articles to your saved list and come back to them any time.
After the hype inflated to look-out-it's-gonna-blow levels over the past month, Matildas mania was punctured with a bang on Wednesday after they lost to England.
The energy generated by Australia's glorious World Cup run will be long remembered. But now bandwagoners and superfans alike are coming down with a case of PMD: post-Matildas depression.
Matildas fans have one question: What do we do now?Credit: Getty
The symptoms of such a condition vary. They include refusing to put your Matildas' jersey through the wash despite the pongy underarms, daydreaming about Sam Kerr's semi-final super strike and counting the days until kickoff in the 2027 World Cup (more than 1000).
Particularly acute cases may find themselves chanting "Tillies! Tillies!" at inappropriate times and suffering from low mood whenever one is reminded of the existence of a place called England.
For those who can remember the Sydney Olympics, there was a similar feeling of "OK, what next?" across the nation in 2000 after that two-week festival of sport ended with Juan Antonio Samaranch's words that they were "the best Games ever".
Not helping things is how Wednesday's result prompted a red card shown to talk of a national public holiday to honour the Matildas winning the whole thing. It always felt like a hubristic jinx and has now proven conclusively to be so.
Fiona Craig, a life balance coach, likens our mood to the comedown of coming home from an enjoyable trip and suffering a post-holiday reality check.
"In that instance, I always say to people don't rush into going back to work, just give it some time to ease back into daily routine," she says.
She said a strategy for dealing with PMD (our acronym, not hers) is to not let go of the Matildas just yet. Perhaps watch some replays or think ahead to the team's next assignment, which is the 2024 Paris Olympics.
Another coping mechanism might involve doubling down on your Matildas investment by paying attention to the team's various club soccer sides. Such as goalkeeping hero Mackenzie Arnold who plays for West Ham United in the English Womens Super League.
"The best games ever," said the IOC's Juan Antonio Samaranch about the Sydney Olympics.Credit: Dallas Kilponen
But it will be hard to recapture the special feeling of hearing people cheering each goal from neighbouring houses as the nation tuned in for a rare shared experience.
"It's that hype isn't it?" said Craig.
"We all jump on the train with all our endorphins and positivity, visualising what the future will look like and then it ends suddenly. It's coping with that disappointment. We've had this shared experience, now we need to pick ourselves up from it."
The Matildas were a bright spot in a tough cold winter of SAD (season affective disorder) where it felt like every second post on Instagram documented someone else's European jaunt along the Amalfi Coast.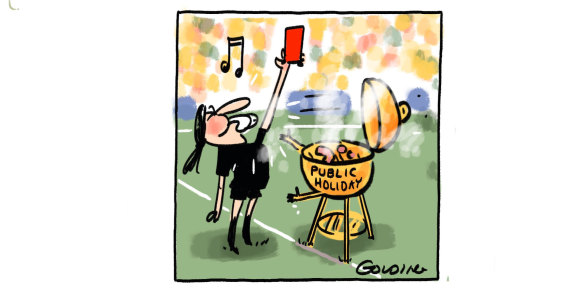 Golding's view.Credit: Matt Golding
Briefly, that sense of FOMO (another acronym, fear of missing out) was reversed, as expats and travellers battled the time difference to watch Australia's matches from overseas pubs.
Now that the World Cup is over, it's back to feeling a bit jealous of all those foreign updates. There are some tips for that too.
"It can be tough when it feels like everyone's in Europe except you," says life and career coach Emma Delahey. "Especially because social media only highlights all the best bits, not the stressful, even tiring parts of travel."
Some ideas to feel better about being stuck at home include seeking out new experiences locally, reminiscing about old travel experiences and doing some exercise to get back "into your body".
"Sometimes you need to do something physical to refocus, take yourself out of the space that you're ruminating in into a completely different space altogether," says Delahey.
"And often that physical environment can really support that change in mindset."
There you have it, hit the local park and pretend you're a Matilda. We'll see you on the pitch in 2027.
The Morning Edition newsletter is our guide to the day's most important and interesting stories, analysis and insights. Sign up here.
Most Viewed in Sport
From our partners
Source: Read Full Article