Study reveals longer-term damages from concussion
A study that tracked amateur Australian Rules football players for five years has found they likely returned to play from concussion with elevated levels of damaged brain cells, despite reporting no symptoms.
The Monash University study collected blood samples from 28 male and female players, from Melbourne University Blacks, at two, six and 13 days after getting concussed between 2017 and 2019 to complete the study.
Researchers then focused on the blood bio-marker, known as the protein Neurofilament light (NfL), which if found at elevated levels can indicate brain cell damage.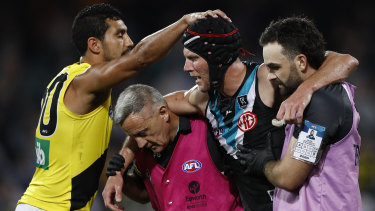 Richmond's Marlion Pickett acknowledges Port's Brad Ebert as the Power veteran leaves the field with concussion in the 2020 preliminary final, his last game before retiring. Credit:Getty Images
NfL was observed at increased levels in 20 players' blood samples at six and 13 days post-concussion, but not after two days when symptoms were present. Researchers therefore found that blood bio-marker changes were present in those concussed after symptoms had subsided.
"Assessments indicated that symptoms were apparent at two days [post-concussion], but not at six and 13 days post-SRC [sports related concussion]," the study published in Biomarker Research said.
"As such, our findings of blood bio-marker changes in males beyond two days provides further evidence that neurobiological recovery may take longer than clinical recovery."
At one week after their concussion, NfI levels were on average double the players' baseline figures and after two weeks they'd risen to three times the baseline amount.
The researchers believe their study shows that the analysis of NfL post-concussion could be a "useful" way of more accurately diagnosing concussion in men. The women involved in the study did not report differences in NfL after concussion.
The AFL tightened its concussion return-to-play protocols ahead of the 2020 season.
The new rules meant a player had to pass a Sport Concussion Assessment Tool test a full five days before playing again. It meant it would be hard for a player with a six day break or less before their next match to play post-concussion.
That five day period had previously been a guideline but that AFL said it would fine clubs who did not abide by it.
Shortly after that it was revealed that deceased AFL legend Polly Farmer had Chronic Traumatic Encephalopathy, or CTE. He was the first player diagnosed as such, with the late Danny Frawley also revealed to have been suffering from CTW in August 2020.
St Kilda delisted former No.1 draft pick Paddy McCartin for 2020, so he could recover from his concussion symptoms. He has not yet found a spot back on an AFL list.
Most Viewed in Sport
Source: Read Full Article