'Disgusted': Couple rejects Jason Burt's account in Hawks racism saga
Save articles for later
Add articles to your saved list and come back to them any time.
Members of a family at the centre of the Hawthorn racism case say they are disgusted with former player welfare manager Jason Burt's version of events and that there is no end in sight for a case that has plunged the AFL into turmoil.
Lawyer Dr Judy Courtin released a detailed statement on Saturday on behalf of her clients under the pseudonyms "Zac" and "Kylie". Courtin heavily criticised Burt for comments he made in an interview with The Age relating to the 2022 Hawthorn cultural safety review – particularly Burt's retelling of when Zac told his then partner and now wife Kylie their relationship was over.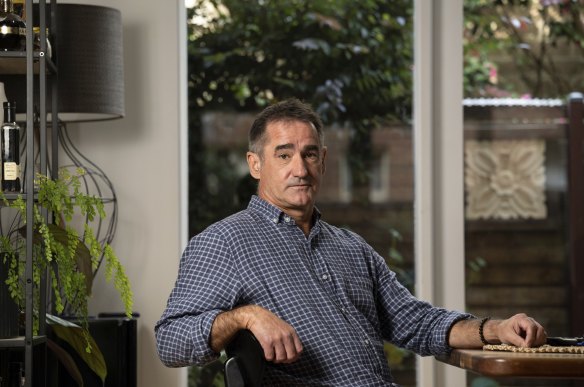 Jason Burt has given his account of the racism allegations aimed at the club.Credit: Penny Stephens
Burt, along with former Hawks coach Alastair Clarkson and football department head Chris Fagan, have been accused of mistreating First Nations players, allegations they strenuously deny.
Burt was contacted on Saturday and told about the statement, but did not wish to respond. His lawyer Tony Hargraves was also contacted for comment.
James Henderson, the manager of Clarkson and Fagan, was reviewing Courtin's statement on Saturday night. The AFL and the Hawks were notified of Courtin's statement, but had yet to respond.
Hawthorn's cultural safety review was sparked by an interview in The Age in April last year with Hawks champion Cyril Rioli and his wife, Shannyn Ah Sam-Rioli, in which they said they were poorly treated during Cyril's playing career, and in which Shannyn said she was "belittled and humiliated".
In grand final week last year, the ABC published interviews with some of the players who had participated in the cultural safety review. Zac and Kylie's pseudonyms align with the ABC report.
The club commissioned a "welfare check" of past and present Indigenous Hawthorn players, the results of which so alarmed the club that it was handed to the AFL's integrity unit. Following the ABC story, the AFL appointed an independent panel to investigate.
Burt said he regretted going with Clarkson and Fagan to the home of the couple when Zac was to deliver the break-up news, and that he should have gone alone, admitting it had made him "feel uncomfortable". He said it had been a difficult discussion and "Zac came and delivered the news".
But Courtin said this was incorrect. "The day before, Burt had invited Zac's mother to a meeting with Clarkson and Fagan to discuss and plan the 'separation' of Zac and Kylie. This was done without Zac's knowledge.
"Zac, visibly distressed and uncontrollably crying, barely spoke in that meeting, and it was Clarkson who dominated and led the discussion.
"Our clients say that on this day, Burt and Kylie's mum were outside the house and were not
privy to the majority of the conversation inside with Clarkson, Fagan, Zac and Kylie. Further, correspondence from the time speaks to a conversation between Burt and Kylie with Burt saying the separation was not instigated by Zac, rather by Clarkson.
The statement said: "Not once had Jason said Zac wanted to end the relationship – in fact, it was
reiterated to me as entirely the opposite."
A source independent of Courtin with knowledge of the events, who would not speak publicly for confidentiality reasons, said Fagan went with Burt and Clarkson to the house but stayed outside.
Burt had said he did not know that Zac and Kylie had become engaged.
"Jason absolutely knew we were engaged. Zac had distributed engagement party
invitations at the club prior to the meeting, and after the meeting Burt texted me to see if I
needed help cancelling the engagement party," Kylie said in the statement.
Zac added: "Jason's version is completely inaccurate. I was set to play a game that weekend, I'd gone to training feeling good. I knew exactly where my footy was at, it was speaking for itself.
"Not only did Burt know that we were engaged, he knew Kylie was pregnant
with a planned pregnancy."
The AFL and lawyers for several parties had been in discussions for a resolution to a case now in its eighth month, but Courtin and sources close to other parties say that is now in extreme doubt.
"The HFC [Hawthorn Football Club] shamefully shirked that responsibility by relinquishing it to the AFL to fix. But 'fixed' it is not. Battle lines have been entrenched. Too many peoples' lives have been turned upside down, including my clients, and there is no end in sight," Courtin said.
Zac and Kylie opted to not to take part in the AFL investigation, Courtin having said it lacked independence.
Earlier on Saturday, Hawks president Andy Gowers was asked on radio about Burt's comments.
"There are all kinds of versions and events that I have read and seen and heard. Not unfamiliar to me, but it's a sad state of affairs," Gowers told SEN.
"I think the whole thing is encapsulated with the word 'sad'."
Gowers said the Hawks were open to an apology to the families, and he was focused on the "human" nature of the case, not the potential legal fall-out for the club. Courtin has said civil action is afoot.
"We are open to all discussions. We are not closing the door on anything, and I am not allowed to go into detail, but what I would remind everyone … is that we are doing everything in our power to resolve this, fairly, justly and quickly," Gowers said.
Gowers said it was a work in progress in terms of what the Hawks could apologise for, but stressed there needed to be a resolution.
"There has to be a resolution. We can't leave this hanging, it is hanging over our club. It is hanging over the competition, and for everybody involved. These are real people, going through really challenging moments. We have seen Alastair Clarkson step away, we have seen [club chief executive] Justin Reeves step away, and I haven't even covered the families, who are obviously feeling hurt themselves," Gowers said.
Clarkson and Fagan have strenuously denied the allegations and have said they look forward to clearing their names. Clarkson recently took indefinite leave from his role as North Melbourne senior coach due to mental health reasons from the toll of the Hawthorn inquiry.
In an earlier statement, Clarkson said: "I was not afforded any due process and I refute any allegation of wrongdoing or misconduct and look forward to the opportunity to be heard as part of the AFL external investigation."
In a statement when the investigation was announced, the Lions club chair Andrew Wellington said: "We stand by Chris as he commits himself to be part of the AFL investigation, which gives him procedural fairness, into allegations concerning historical events at the Hawthorn Football Club, where he was a former employee. Chris has categorically denied any wrongdoing."
Keep up to date with the best AFL coverage in the country. Sign up for the Real Footy newsletter.
Most Viewed in Sport
From our partners
Source: Read Full Article