Cerra inspired by feats of Blues teammates; Hawks appoint new chief
Save articles for later
Add articles to your saved list and come back to them any time.
In today's AFL briefing, your daily wrap of footy news:
Adam Cerra hails resilience of Docherty and Acres.
Hawks appoint new CEO from within.
Carlton midfielder Adam Cerra says the efforts of Blake Acres and Sam Docherty to perform under duress in last week's semi-final win can drive the squad through September.
Docherty dislocated his shoulder, while Acres has been battling a collarbone injury, but both were crucial to the side's thrilling win over Melbourne, which put the Blues into their first preliminary final since 2000. Docherty was involved in Carlton's last two goals of the game, while Acres kicked the winning goal.
Charlie Curnow and Sam Docherty celebrate the Blues' semi-final win on Friday night.Credit: AFL Photos
Cerra said their efforts were inspiring.
"It just goes to show, probably a lot of boys are carrying stuff, but we just need to get our roles done. Even the difficulties some boys might have with travelling, everyone's going through something. They're leaders in our groups and there's a reason for it too."
Cerra said he'd had his most consistent season to date, his second at the Blues after playing 76 games for Fremantle.
The 23-year-old said he had no timeframe on when he had expected to play finals at Carlton, but believed the time would come.
"From an outsider when I was at Freo, I always admired the list they had here and believed that something special could be brewing here," he said.
"To make the move here, it was exciting for me, and to see everything start to come together, especially in the back half of this year, from the journey we've been on, it's really exciting to be a part of."
Meanwhile, Cerra gave more detail about the now infamous bonding session at Ed Curnow's farm outside of Torquay earlier in the year, which has been identified as the turning point in the club's season.
"We had some honest conversations, we broke up in lines," he said.
"But stories of people swimming in dams, I think it was just Ed Curnow, it was his dam, he had to start it.
"The boys weren't getting wasted and stuff, but it was a time to enjoy some time together and speak about what we want to become as individuals and as a team.
"Looking into the club from outside the four walls, you could have thought it was a shambles or the team was cracking, but honestly it was nothing like that. We were united through the whole thing, and that campfire was really a good time to spend some time together outside the club and speak open and honestly."
Asked whether he'd like to be the subject of Robbie Williams' next TikTok, Cerra laughed: "The song's been stuck in the boys' head I think, I think it was playing in the gym over the speakers."
"I don't think Tom [De Koning] realises the significance of that yet. Maybe post-season he can reflect on that."
Hawks appoint new chief executive officer
Jon Pierik
Hawthorn has appointed Ashley Klein as its new chief executive officer.
Klein had been the interim CEO since Justin Reeves abruptly quit at the end of May.
"I have been a life-long Hawthorn fan, and being able to guide the club into the future is something I am extremely proud of," Klein said.
"The brown and gold faithful are the most passionate and loyal supporters in the league, and I am committed to continue making our members and fans proud of the club they support."
Klein joined the Hawks as chief commercial officer in 2018 after he spent more than a decade at Collingwood, where he began as a corporate sales executive and finished as the general manager of commercial partnerships and sales.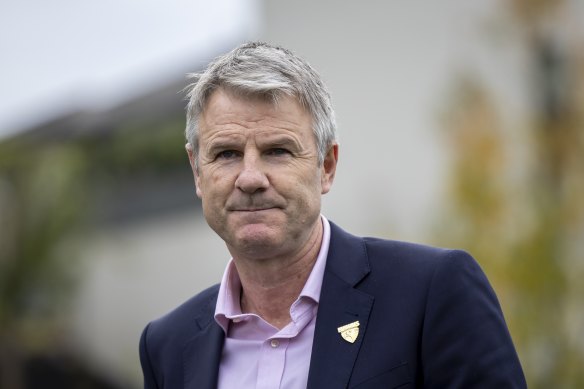 Hawthorn president Any Gowers says Ash Klein was the stand-out candidate to be the new club CEO.Credit: The Age
Hawks president Andy Gowers said Klein was the stand-out choice.
"Having carefully interviewed and considered a number of impressive applicants, Ash emerged as the clear choice," Gowers said.
"Ash has long demonstrated his skills as a well-rounded professional, which saw him guide the club tremendously well during the past few months, after stepping up as chief executive officer on an interim basis."
Former club president Jeff Kennett said on social media that Klein was an "excellent choice".
Vice-president Katie Hudson, executive general manager of people, culture and community Sally McNeilly, board director Owen Wilson, four-time premiership great Chris Langford and Gowers were on the subcommittee that chose Klein. The club also had help from executive recruitment agency Six Degrees.
Klein's immediate tasks remain dealing with the fall-out of the report into historical claims of racism at the club, with aggrieved families having taken their case to the Human Rights Commission, while the club's bid to build its new base, the Kennedy Community Centre, in Dingley, has had cost blowouts and delays.
Keep up to date with the best AFL coverage in the country. Sign up for the Real Footy newsletter.
Most Viewed in Sport
From our partners
Source: Read Full Article