Bahrain Grand Prix LIVE: Formula One updates, build-up and result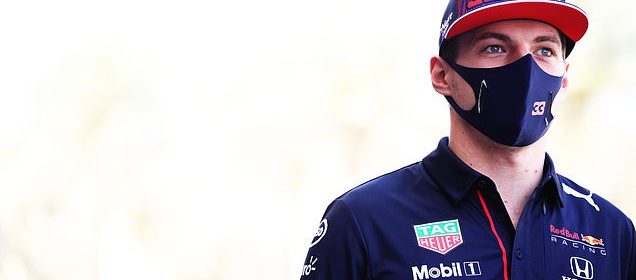 Formula One – Bahrain Grand Prix LIVE: Max Verstappen takes first pole position of the season as Lewis Hamilton looks to lay down early marker in pursuit of record-breaking eighth world title
Max Verstappen starts in pole position as Formula One returns in Bahrain 
The Red Bull man takes the first starting spot of the new schedule
Sebastian Vettel starts last on his Aston Martin debut after a grid penalty 
Formula One 2021 season breakdown: Race dates, rule changes and odds
Latest Formula One news, including upcoming races and results
Formula One is back and with it comes the mercurial Max Verstappen who opens the new schedule on pole position, after edging out Lewis Hamilton.
The Brit is looking to hunt down an historic eighth world title and further cement his dominance in the sport, while his age old rival Sebastian Vettel starts in last place on his Aston Martin debut after picking up a grid penalty for ignoring yellow flags.
In what is set to be an afternoon of high octane action, follow every turn with Sportsmail's DANIEL DAVIS for live Formula One coverage of the Bahrain Grand Prix, live!
Host commentator
The conditions are very different to qualifying today.
The temperature is around 22C, a drop of about 10C, and the wind has certainly picked up.
It's a strong headwind. That will make it more difficult for the cars heading into many of the corners at this circuit.
It may even spell bad news for Mercedes in their quest to usurp Max Verstappen at the front.
What a sight. It's the 2021 season opener in Bahrain.
F1 is back! Let's do this…
Here is how each team fared in qualifying yesterday.
Alpha Tauri look like they have flown almost to the top of the midfield – with Yuki Tsunoda definitely one to keep an eye on here.
Fernando Alonso impressed on his return with Alpine and starts in ninth.
The two Haas' were underwhelming. Mick Schumacher and Nikita Mazepin have it all to do.
And it's Max Verstappen's Red Bull and the two Mercedes' out in front.
Alfa Romeo: 12th (Giovinazzi) and 14th (Raikkonen)
Alpha Tauri: 5th (Gasly) and 13th (Tsunoda)
Aston Martin: 10th (Stroll) and 20th (Vettel)
Ferrari: 4th (Leclerc) and 8th (Sainz)
Haas: 18th (Schumacher) and 19th (Mazepin)
McLaren: 6th (Ricciardo) and 7th (Norris)
Mercedes: 2nd (Hamilton) and 3rd (Bottas)
Red Bull: 1st (Verstappen) and 11th (Perez)
Williams: 15th (Russell) and 17th (Latifi)
We have just under 15 minutes left until it's lights out in Bahrain!
Take a look at what the drivers should expect below.
We have a real scrap on our hands for a podium place today.
Valtteri Bottas took third but was just 0.1 seconds ahead of the flying Charles Leclerc in fourth.
Ferrari look to possess some fearsome and raw speed this year in a complete contrast to their struggles throughout 2020.
Pierre Gasly took fifth and, perhaps crucially, will start on a preferred compound after using medium tyres in Q2.
Just behind that Alpha Tauri rocket ship, we have McLaren duo Daniel Ricciardo and Lando Norris.
They will hope to make progress on the cars ahead.
It's a bit of bizarre feeling, but a very welcome one. For the first time in a long, long time we have a Red Bull car which is faster than Mercedes'.
Lewis Hamilton, in search of an historic eighth world title, looks set for a real dog fight at the front of the grid with Max Verstappen.
The world champion admitted after qualifying that he expected the gap between himself and today's pole sitter to be more than 0.4 seconds.
Red Bull may have the advantage on pace, but Mercedes, sitting nicely in second and third, perhaps hold the tactical advantage.
Watch out for that mouthwatering duel as we head into Turn 1…
1st – Max Verstappen (Red Bull)
2nd – Lewis Hamilton (Mercedes)
3rd – Valtteri Bottas (Mercedes)
4th – Charles Leclerc (Ferrari)
5th – Pierre Gasly (Alpha Tauri)
6th – Daniel Ricciardo (McLaren)
7th – Lando Norris (McLaren)
8th – Carlos Sainz (Ferrari)
9th – Fernando Alonso (Alpine)
10th – Lance Stroll (Aston Martin)
11th – Sergio Perez (Red Bull)
12th – Antonio Giovinazzi (Alfa Romeo)
13th – Yuki Tsunoda (Alpha Tauri)
14th – Kimi Raikkonen (Alfa Romeo)
15th – George Russell (Williams)
16th – Esteban Ocon (Alpine)
17th – Nicholas Latifi (Williams)
18th – Mick Schumacher (Haas)
19th – Nikita Mazepin (Haas)
20th – Sebastian Vettel (Aston Martin) – five-place grid penalty
Red Bull's Max Verstappen beat Lewis Hamilton to pole in breathtaking fashion yesterday.
He was 0.388 seconds quicker than Mercedes' reigning champion and Red Bull certainly delivered on their pre-season promise.
Valtteri Bottas will start in third, with Ferrari's Charles Leclerc and Alpha Tauri's Pierre Gasly making up the rest of the top five.
Sergio Perez, making his Red Bull debut, endured a horror session and dropped out in Q2.
He will have to battle back from 11th on the grid to make more memories here.
It was also one to forget for Sebastian Vettel. He has been shunted to the back of the pile after being tripped up by a yellow flag.
Hello, all! Welcome along to Sportsmail's live coverage of the curtain raiser for what is sure to be a very memorable 2021 Formula One campaign.
I've been looking forward to this one for quite some time – and I hope you have too! It promises to be an absolute cracker.
It's lights out in Bahrain at 4pm, but until then we'll build up to every glorious twist and turn in this blog. Don't go anywhere!

Source: Read Full Article