Live: Acting Prime Minister Michael McCormack's 'bizarre' response to allegations of crowd abuse at SCG Test
One out-of-place detail in acting Prime Minister Michael McCormack's response to alleged crowd abuse at the SCG  has come under scrutiny. 
Ashwin: Racial abuse regular in Sydney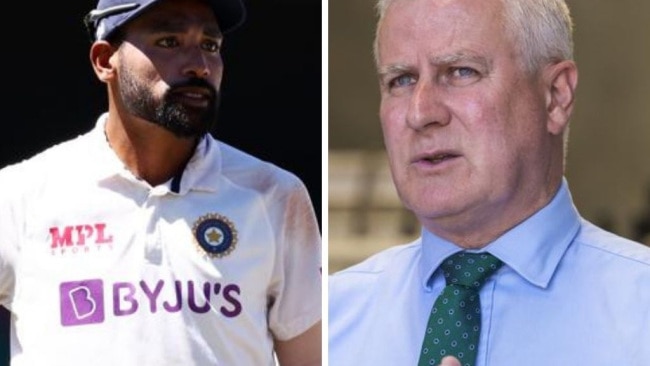 The on-field action has been overshadowed.
Welcome to our live coverage of day five of the third Test between Australia and India.
The tourists face the tough prospect of scoring 309 more runs for victory, or surviving the entire day to secure what would be a memorable draw.
Watch Australia v India Test Series Live & Ad-Break Free During Play with the Fox Cricket commentary team. New to Kayo? Get your free trial now & start streaming instantly >
Australia took two wickets late on day four and will be hoping to run through the Indian batting line-up and take a 2-1 series lead.
Play is scheduled to start at 10am AEDT.
Live Updates
Acting PM's odd response to abuse claims
Acting Prime Minister Michael McCormack says "there is no place for racism in Australia" but another aspect of his response to allegations of abuse by spectators at the third Test has come under scrutiny.
Play stopped for about 10 minutes on Sunday after Indian fast bowler Mohammed Siraj complained he was being abused by a section of the SCG crowd while fielding at fine leg.
Several men were ejected from the ground by police and an investigation is taking place into what was said. The Indian camp said after play copping racist abuse from Australian crowds is nothing new, spinner Ravichandran Ashwin saying he has experienced it regularly across his four tours Down Under.
In response to spectators being kicked out, McCormack said "if racist remarks have been made, then the appropriate action has taken place". However, somewhat bizarrely, he then dragged Australia's on-field chances of winning the Test into the picture.
"Australia's performance in this Test so far has been very solid – the team won't be distracted by this as it pushes on to victory," he said.
AAP sports reporter Scott Bailey suggested it was a highly unusual correlation to make.
"Oh great. The acting Prime Minister felt it necessary to point out he hopes claims of racism at the SCG won't distract Australia's push for victory in the Test," Bailey tweeted.
"Why would a country's leader even feel the need to have that in a statement? Some perspective, please!
"I mean of course he or anyone can hope Australian or their team wins. But for an acting Prime Minister to link the two things in a statement is absolutely bizarre."
Sachin, Indian stars weigh in
Sachin Tendulkar and other Indian stars have weighed in on the allegations of crowd abuse at the SCG.
Play was stopped on day four when fast bowler Mohammed Siraj complained of being abused on the boundary, and the Indian camp has subsequently alleged the taunts were racist in nature.
Taking to Twitter, Tendulkar wrote: "SPORT is meant to UNITE us, not DIVIDE us.
"Cricket never discriminates. The bat & ball recognises talent of the person holding them – not race, colour, religion or nationality. Those who don't understand this have NO PLACE in a sporting arena."
Former Indian spinner Harbhajan Singh added: "I personally have heard many things on the field while playing in Australia about Me My religion My colour and much more..This isn't the first time the crowd is doing this nonsense…How do u stop them??"
Ex-Indian skipper Mohammad Azharuddin told the Press Trust of India: "Every time we play with Australia, something of this thing happens. It is becoming a regular affair. Nobody should tolerate all these things."
Paine slapped with penalty for dissent
Tim Paine has been fined 15 per cent of his match fee but avoided a suspension after swearing at umpire Paul Wilson on day three of the third Test.
The Australian captain demanded "f***ing consistency" when a close DRS call went against the home side, as Paine challenged an initial not-out decision after thinking Cheteshwar Pujara had inside edged Nathan Lyon to Matthew Wade at short leg.
Had the wicketkeeper been charged with a more serious offence, he faced a possible ban and may have missed the final Test in Brisbane. But luckily for the Aussies, he was only handed one demerit point for dissent and will be free to play.
Related topics
Source: Read Full Article