'I batted like when I was younger': Sarah Taylor is back and has still got it after signing for Welsh Fire

Sarah Taylor is back. The former wicketkeeper-batter, regarded as one of the most naturally gifted cricketers England have produced, has signed for the Welsh Fire in the women's Hundred. 
The 31-year-old is keen to stress this is not a comeback. Retirement at the end of 2019 only pertained to international cricket. After 13 years of 226 caps across all three formats, 6,500 runs and global triumphs with the World Cup and World T20 in 2009 followed by the 2017 50-over success, she decided to close that chapter in her life. 
But Taylor had not closed herself off from a domestic return. Her last competitive match came in the first season of the Kia Women's Super League, for Surrey Stars against Lancashire Thunder in August 2019. She did not pick up a bat in 2020 and, at the start of this year,  joined the coaching ranks at her county, Sussex, leading to further assumptions that her playing days were over. 
Behind the scenes, though, moves were being made. A couple of Hundred offers were on the table. And after pulling her cricket bag out of storage to have a hit, she realised she had more to give. Crucially – more to enjoy from a sport that has provided her with highs and lows. 
"I had one (hit) and it went pretty well," says Taylor.  "I thought 'I'll give it a few more goes and see how it is'. A couple of offers were on the table at the time and once I realised I've not lost it completely, I might as well give it a go. 
READ MORE
Brave Carl Frampton bows out with brilliant legacy after cruel defeat by Jamel Herring
Danger man Diogo Jota is the key to Liverpool's top-four hopes
England Euro 2020 squad: Who's on the bus, who's in contention, who could miss out?
"The Hundred is something I would love to have been a part of – last year was a bit too early personally. But it skipped a year and the chance to be there in the first year of The Hundred is a little bit of a no-brainer, really. I'm just really looking forward to it, I can't wait till that first girl's game when Oval Invincibles and Manchester Originals (21 July), I will literally be glued to the TV for that game. As soon as the offer came from Welsh Fire, it was a no-brainer to say yes."
The hushed nature of this deal was as much to avoid speculation as it was to allow Taylor as much time and discretion needed to reach her decision. Conversations with her agent and Welsh Fire coach Matthew Mott helped ratify the performance element. But the more important side of mental well-being was on Taylor and Taylor alone. 
Independent Rugby Newsletter
Live Rugby union coverage direct to your inbox every week
Read our privacy notice
Independent Rugby Newsletter
Live Rugby union coverage direct to your inbox every week
Read our privacy notice
She has taken time off throughout her career to manage her anxiety, most notably in 2010, when she spent some time in New Zealand, and in 2016. Similarly, last year's hiatus was no different. 
"I don't think I've been shy in saying that I needed a break, a mental break from the game and the people, unfortunately," she says. "I think I just needed to shut the door on cricket, just disappear for a little bit in my own little bubble and work out a few things. 
"I was fortunate to join up with the Sussex guys just to learn a lot about me as a coach, about how I operated in a group in that team environment and it just felt really normal again, which is what I was hiding from a little bit. It just opened my eyes to the fact that I wanted to be part of a team again but I didn't know to what extent. That's why I always said I'd never really retired from domestic cricket, it was just the international side. It was then a case of having that hit and I felt absolutely fine. I wasn't scared of the idea of playing, whereas before I was."
Coaching, she reveals, has given her a grounding she never had as an active international. "I was very much always away. I bought a flat but I was barely in it so I think having my full-time job now, my feet are firmly on the ground."
As for the cricket, well, she's still got it. The hands are as they always were: sharp, nimble, always alert. Even after so long, the muscle memory returned quickly. Along with a pure affection for the game she recognised from her beginnings.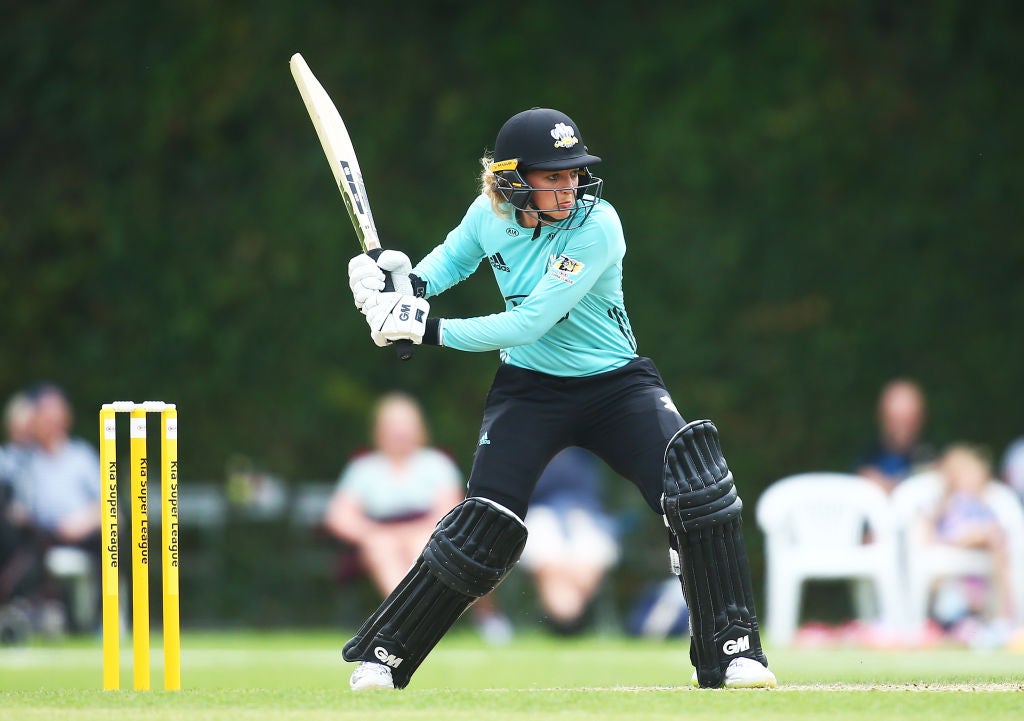 "I genuinely had to blow dust off my cricket bag, it had just been in the store room. And I just felt back to me again. Weirdly enough I wasn't batting like I was when I retired, I was batting like I was when I was back in 2006 when I made my debut. 
"I batted like I was when I was younger and I've been missing that girl. I wanted to get back to that for so long, I was unsure how. It's been, in theory, a horrendous time but for me it's been personally a good journey for me.
"So it was nice to come back and feel that ego, that aggression – that dismissiveness. I used to have that as a player. I just lost that, so to get that back and bat like I used to was nice. There was a little bit of arrogance, which I'll need.
With Australia's Beth Mooney as a Fire teammate, Taylor doesn't think she will keep even though, in her words, she hasn't lost it. Looking further ahead, she does not know how much longer she'll keep herself on the path, or even if the next time she walks away will be the last. 
What she does know is that coaching, beyond stability, is an unknown perk that is just starting to reveal itself. 
"For a long time, I didn't really enjoy being the centre of attention so the more success I had the more I struggled with that kind of balance. I never wanted to be a coach, it came about through the school and then it's opened up avenues with Sussex and now the men. I'm all of a sudden taking complete attention away from me and I'm affecting someone. 
"I was The Oval [last Tuesday] and watching Ben Brown keep, he took a wonderful stumping and you feel a sense of pride for all the hard work you put in with him and he's put in so much hard work. Just seeing them progress or do well, the enjoyment's there massively for me."
The joy she has in the performance of others will be reciprocated by the joy of others in seeing Taylor return to action. It might not be for long, but any chance to see one of this country's most enlightening talents back on a cricket field is one to savour.
Source: Read Full Article