Bathurst 1000 2020 live: Qualifying and Top 10 shoot-out
Red Bull Holden Racing Team's Shane van Gisbergen is pinning all hopes on the shootout session to remain dry as he looks to go one better at Mount Panorama.
Lee Holdsworth claims provisional pole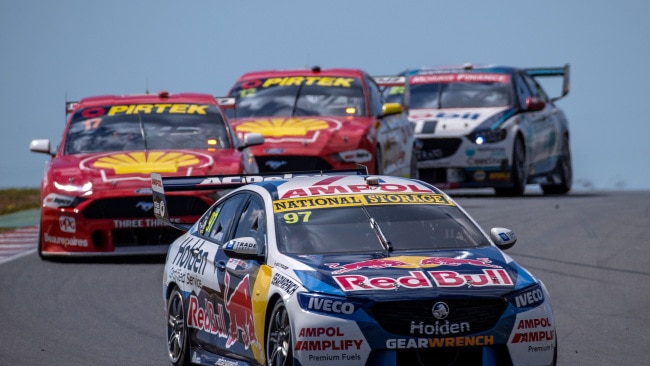 TAILEM BEND, AUSTRALIA – SEPTEMBER 20: In this handout photo provided by Edge Photographics, Shane van Gisbergen drives the #97 Red Bull Holden Racing Team Holden Commodore ZB during race 26 at the 2020 Supercars Championship on September 20, 2020 in Tailem Bend, Australia. (Photo by Handout/Mark Horsburgh/Edge Photographics via Getty Images )
Red Bull Holden Racing Team's Shane van Gisbergen is pinning all hopes on the shootout session to remain dry as he looks to go one better at Mount Panorama.
Second behind Scott McLaughlin in 2019, van Gisbergen said anything is possible if the heavens open.
"It's going to be interesting, I think in 2015 we had the same thing where it could be a weather affected shootout," van Gisbergen said.
"It's just a lottery what end of the show you are. Hopefully it falls our way and down the end it is starting to dry up or getting cooler or whatever.
"Hopefully everyone gets a fair shot at least."
Ford's Lee Holdsworth emerged as a qualifying giant-killer as he upstaged the championship hot-shots to claim provisional pole for Sunday's Bathurst 1000.
Sitting on top with the fastest time when light rain hit late in the qualifying session to deny a late flurry of hot laps, Holdsworth secured the honour of the final lap in the top-10 shootout with his 2min 04.02sec time around Mount Panorama.
Satisfied his effort was enough to book himself a spot in the shootout, Holdsworth headed to the garage after his hot lap late in the session before the rain hit to end any other drivers' hopes of taking down his time.
Holdsworth, whose best result at Bathurst was third with Caruso in 2009, was confident he had the car to threaten in the race on Sunday.
"You're very excited about a provisional pole at Bathurst – that's pretty spe said everything becomes a lottery if the heavens opencial – but it's not pole (position), we've got to wait to see where we finish after tomorrow," Holdsworth said.
"We've got a fast race car and that's what you need around here.
"We've got a car that seems pretty, I wouldn't say easy to drive, but I think we can tame it down and have quite a nice race car.
"We're both comfortable in the car and that will go a long way to putting us in a good position Sunday."
McLaughlin was disappointed he didn't get the chance to put down another big lap late in the qualifying session, but was focused on pushing up the order in the shootout.
"I was ready to go, I was rubbing my hands together going 'Let's go'," McLaughlin said.
"But I got to McPhillamy and it was absolutely bucketing down. I went over the hill and it was loose on the slicks and I was like 'Nah, boys we'll bring it in and have another crack tomorrow in the shoot.
"I think we probably had a (2min) 3.9sec in us. We stuffed the first sector up on (our earlier lap) … but I think everyone has probably got the same story so bring on the shootout."
The Ford flyer claimed provisional pole last year and was also quickest in the shootout before going on to win his first Bathurst. But two months later he was stripped of the qualifying and shootout wins after DJR Team Penske was pinged for an engine breach.
FOLLOW THE TOP 10 SHOOTOUT LIVE FROM 5PM AEDT
Live Updates
Comments
Add your comment to this story
To join the conversation, please Log in. Don't have an account? Sign up
Join the conversation, you are commenting as Logout
Source: Read Full Article