David Beckham's plans for Miami stadium for MLS franchise pass residents' vote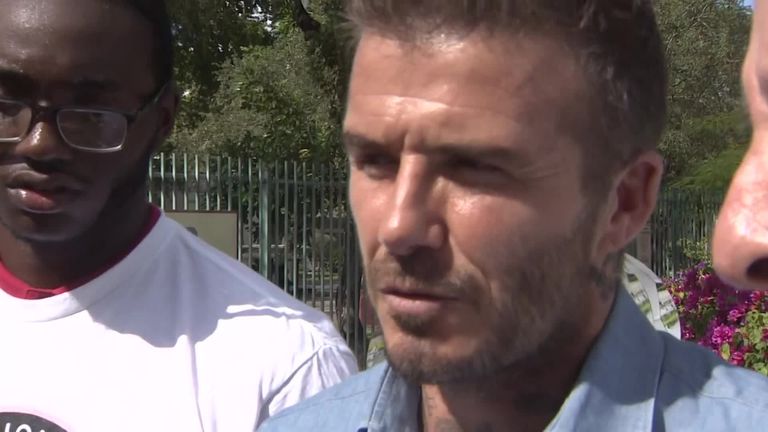 David Beckham's dream of bringing an MLS franchise to Miami has moved a step closer after plans for a new stadium to be built in the city were approved by residents.
The former England captain wants to start a new team called Inter Miami but needed support from local residents for the project to proceed.
In a referendum on Tuesday, 60 per cent of the votes backed his plans for a 25,000-seater stadium to be built next to the city's airport on land that is currently a golf course.
The vote is a major hurdle cleared for Beckham following five years of delays, and his team must now negotiate terms of the lease with city officials before building work can start.
"I need to say a big thanks to the fans who have stuck by us," said the former Manchester United, Real Madrid and LA Galaxy star.
"Today is an exciting day. We have had a dream of bringing a team to this great city. We want to create a legacy, something our children will aspire to. But we also want to win. I am not coming here just to have a pretty team. Winning championships are important to me."
MLS Commissioner Don Garber tweeted his support of Beckham's plans.
Today is a historic day for the sport in our country, and another building block in our vision to become a soccer nation. Inter Miami CF's plan for a world-class soccer stadium as the keystone for Miami Freedom Park will help transform the City of Miami and be a hub for (1 of 3)
soccer fans from all over South Florida. On behalf of all of us at Major League Soccer, we thank the community for its support, and Miami city officials for their leadership. (2 of 3)
We also thank Jorge and Jose Mas, David Beckham and Marcelo Claure for their hard work and deep belief in MLS. We look forward to Inter Miami CF's launch in 2020. (3 of 3)
Beckham's group must now earn approval from four of the five city commissioners. Two of them – Manolo Reyes and Willy Gort – opposed the referendum earlier this year.
Beckham's lavish $1 billion (£762m) project will include a stadium complex as well as a huge shopping mall, a 750-room hotel, office space and a 58-acre public park.
Locals were encouraged to vote 'yes' to ensure jobs and other benefits for Miami including help to reinvigorate other public parks in the area.
MLS stress the team will begin playing in 2020 although it will have to be at a temporary venue, potentially at the Hard Rock Stadium, home of the Miami Dolphins, or the Marlins baseball stadium.
Source: Read Full Article