Arsenal vs Manchester City: Five things we learned as Raheem Sterling gives Pep Guardiola's side victory

Runaway Premier League leaders Manchester City continued their relentless winning run with victory over Arsenal at the Emirates.
Raheem Sterling scored the game's only goal, guiding a header past Bernd Leno with just two minutes played.
The away side were dominant for the opening half hour, controlling possession and threatening to swat Arsenal aside. But the hosts responded, growing into the game without ever producing enough to threaten City's almost impenetrable defence.
Another three points takes Pep Guardiola's side ten points clear at the top, while Arsenal stay in tenth.
Here are five things we learned from the game.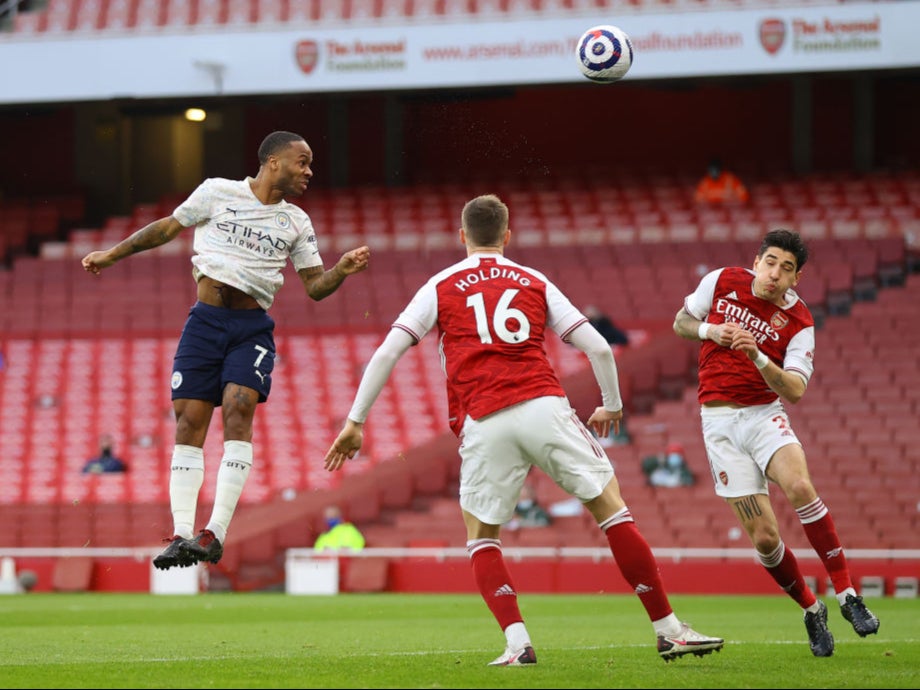 Raheem Sterling scores the game's only goal
Positional fluidity
City's greatest weapon has become the fluidity of movement of their attacking players. This is not new: over the last few weeks Ilkay Gundogan's forward runs have been highlighted, and Guardiola has often gone without a recognised striker.
Independent Football Newsletter
Get the latest football headlines direct to your inbox twice a week
Read our privacy notice
Independent Football Newsletter
Get the latest football headlines direct to your inbox twice a week
Read our privacy notice
Against Arsenal, though, the absence of any real fixed positions for several players was particularly noticeable. For the first goal, it was Sterling who popped up in the middle, ghosting away from Rob Holding to head home. Later on, Bernardo Silva and Gundogan would occupy the central areas, with Kevin De Bruyne drifting behind them and Riyad Mahrez wide on the right.
Guardiola has clearly dismissed rigid formations as a thing of the past, inhibitive and unnecessary. This is a team full of Ramdeuters, players capable of interpreting and exploiting spaces. And defending against it, as Arsenal discovered, is extremely difficult.
De Bruyne return makes City even more formidable
This was not De Bruyne at his spectacular best, but his mere presence seemed to play on Arsenal's mind, particularly in the early stages of the game. His return to the starting XI after a month out with injury only makes the league leaders stronger, hard to imagine for a team that had been performing so consistently without the Belgian.
There was an element or rustiness about his performance at the Emirates, understandable given he was only eased back into action a cameo against Everton last week. But as the game progressed, De Bruyne began to produce the kind of penetrative passes and arrowing crosses that will have Premier League defenders across the country waking in cold sweats.
Guardiola took him off just after the hour mark, but with De Bruyne now on his way back, City could accelerate further away from the chasing pack.
Arteta powerless to resist former mentor
There was plenty of discussion before the game surrounding Mikel Arteta's familiarity with Guardiola, how that might help him put together a plan to nullify the visitors. The Arsenal boss, of course, spent several years at City as the club's assistant manager.
But his side struggled to assert themselves tactically until the second half, and even then City's imperious defence were relatively untroubled.
There's no doubt that Arteta is a coach with potential: he guided the Gunners to victory over Guardiola's City in the FA Cup semi-final last year, a result based on solid defensive foundations. And his team grew into the game here, having looked like they might be on the wrong end of a heavy defeat early on.
For now, though, it's advantage Guardiola, the senior manager getting the better of his former student.
Odegaard still finding his feet
Arsenal fans are still waiting for Martin Odegaard to truly mark his arrival at the Emirates. Much is expected of the Real Madrid loanee, who is still only 22 but by now an established name given his preciousness as a youngster.
There were glimpses of his ability against City, too, but nothing really sustained, nothing to suggest that he will be the immediate solution Arteta needs in terms of a creative, game-changing No.10.
When Arsenal turned to Emile Smith Rowe late in the second half, it seemed like the obvious move to make. Odegaard has work to, then, if he is to cement his place in the team ahead of the English youngster.
Europa League exertions hinder Arsenal
It's no secret that a prolonged run in the Europa League can have an adverse impact on domestic form. Arsenal were in Rome on Thursday night, battling to a 1-1 draw against Benfica in the 'away leg' of their second round tie. The return leg will be played in Athens next week, so there'll be more travelling to do.
The hosts did appear to be a little leggy, too, especially early in the game as City passed the ball at will and made their opposition chase it.
Managing the two competitions is something Arsenal will have to continually adjust to. It can make fixtures like this even more of a challenge, with City having had an extra day's rest and significantly less distance to travel.
Perhaps the transition from Europa League to Premier League will be slightly easier next weekend, although a trip to Leicester is hardly the ideal fixture.
Source: Read Full Article