No pleasantries between former roommates Hamlin-Uele and Fonua-Blake
Braden Hamlin-Uele is no stranger to the impact Addin Fonua-Blake can have on a team.
The Cronulla rookie will be charged with stopping Manly's main man in the middle of the field when the two teams clash at Lottoland on Saturday but they were teammates just five years ago while representing the Junior Kiwis.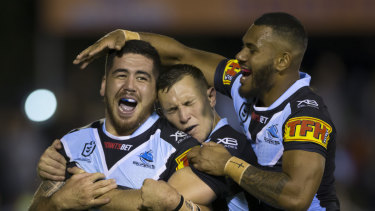 Braden Hamlin-Uele is in fine form this season.Credit:AAP
That is of little surprise to Hamlin-Uele, who saw the talent in the Manly big man while rooming with him during their Junior Kiwis campaign.
"You always knew he had the talent and the skill to do it. Just seeing him happy at a club was the main thing that he was wanting," Hamlin-Uele said.
"Manly seems like a good fit for him.
"He has a few of the Tongan boys over there with him and he just looks happy. That's the main thing, I guess, for anyone in footy.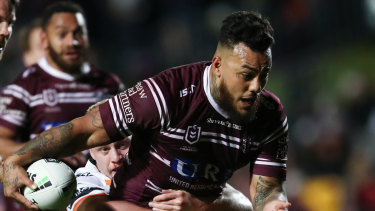 Addin Fonua-Blake has starred for the Sea Eagles all season.Credit:AAP
"He's playing freakish football, him and Marty (Taupau) up front.
"They pretty much control the whole forward pack for them and he will be a tough competitor on Saturday, I'm sure."
Hamlin-Uele is thriving as a foil to Andrew Fifita and Matt Prior in Cronulla's front row, so much so that he has drawn comparisons to the former.
While those comparisons are flattering, the Auckland born rookie wants to make his own mark at the Sharks as they begin their finals run.
"I try not to look into it too much. I try to bring my own game into it," he said.
"He's Andrew Fifita, I'm trying to be Braden Hamlin-Uele.
"He's definitely a quality player and I have watched him and looked up to him when I was younger.
"Now that I'm here I just try to be the best that I can be, not so much the best version of someone else."
Cronulla will need Hamlin-Uele at his damaging best if they are to start their finals campaign in style on Saturday.
"Everything that has happened in the last few weeks are gone," he said.
"We start fresh (this week) and I'm looking forward to it, hey. First taste of finals footy as a player. I'm ready to go."
Source: Read Full Article