Sports need more franchises like the Pittsburgh Steelers
I was not surprised when two buses filled with Steelers executives, players, coaches and staff pulled up to a Pittsburgh synagogue to attend the funeral of Cecil and David Rosenthal on Tuesday. The brothers were among the victims of the horrific Tree of Life Synagogue shooting last week, and their sister Michele is a former community relations manager for the team.
Such a response is the latest example of the tremendous class the Rooney family displays and the dedication to the city of Pittsburgh they pass along to all members of their organization.
Team owner/president Art Rooney II, general manager Kevin Colbert, coach Mike Tomlin and quarterback Ben Roethlisberger led the large group of current and former Steelers to the service. This show of support followed an emotional moment of silence Sunday at Heinz Field, where the scoreboard was blank before the Browns game as the team paid tribute to the 11 people killed and many others wounded in the shooting.
"Our hearts are heavy, but we must stand against anti-Semitism and hate crimes of any nature and come together to preserve our values and our community," Art Rooney II said Sunday.
Pittsburgh is #StrongerThanHate. pic.twitter.com/3DfN5AIrr2
Steelers founder Art Rooney, his son Dan (also a long-time owner/president) and now Art II have a 50-plus year track record of running one of the most iconic and successful franchises not only NFL history, but in all of sports. They have won the most Super Bowl titles (six), yet they have always remained humble, friendly, down to earth and dedicated to their community.
I became well acquainted with Dan and Art II during my years as an NFL exec, and I tried to follow their example of patience, stability and community involvement in our organizational planning and decision making. Their example was similar to what I observed from the leadership of the Vikings organization in my early years with Minnesota.
Of all pro sports franchises, only the Steelers can claim they have had the same ownership family and just three head coaches (Chuck Noll, Bill Cowher and Mike Tomlin) over the past 49 years.
The Steelers are a model franchise when it comes to football operations — as further proven recently by their handling of drama around Le'Veon Bell's no-show, Antonio Brown's diva-like behavior and Roethlisberger's hints at retirement — but this is more about what the Steelers mean to the Pittsburgh community and how they do all the right things off the field.
MORE: Penguins wear patch for shooting victims
One of my lasting impressions of this organization is what I witnessed at the 2010 Pro Football Hall of Fame enshrinement ceremony. The entire Steelers team came to Canton to see then-defensive coordinator Dick LeBeau inducted.
It was so moving to see the Pittsburgh execs, coaches, players and staff all seated together in one section that night. I've been to a lot of Hall of Fame ceremonies, and I've never seen such a display by a team.
In terms of community support, the Steelers' endless list of action includes: player visits to Children's Hospital of Pittsburgh, organization support of Catholic Youth Association, Cancer Caring Center, Crucial Catch (for cancer awareness), the American Heart Association, the Art Rooney Scholarship Fund, NFL Play 60, Veterans/Military recognition and Make-A-Wish.
Plus, come Thanksgiving week, Tomlin and the players will donate and distribute turkeys to needy families. Many of the players, including Roethlisberger and defensive end Cam Heyward, have their own foundations and causes to support.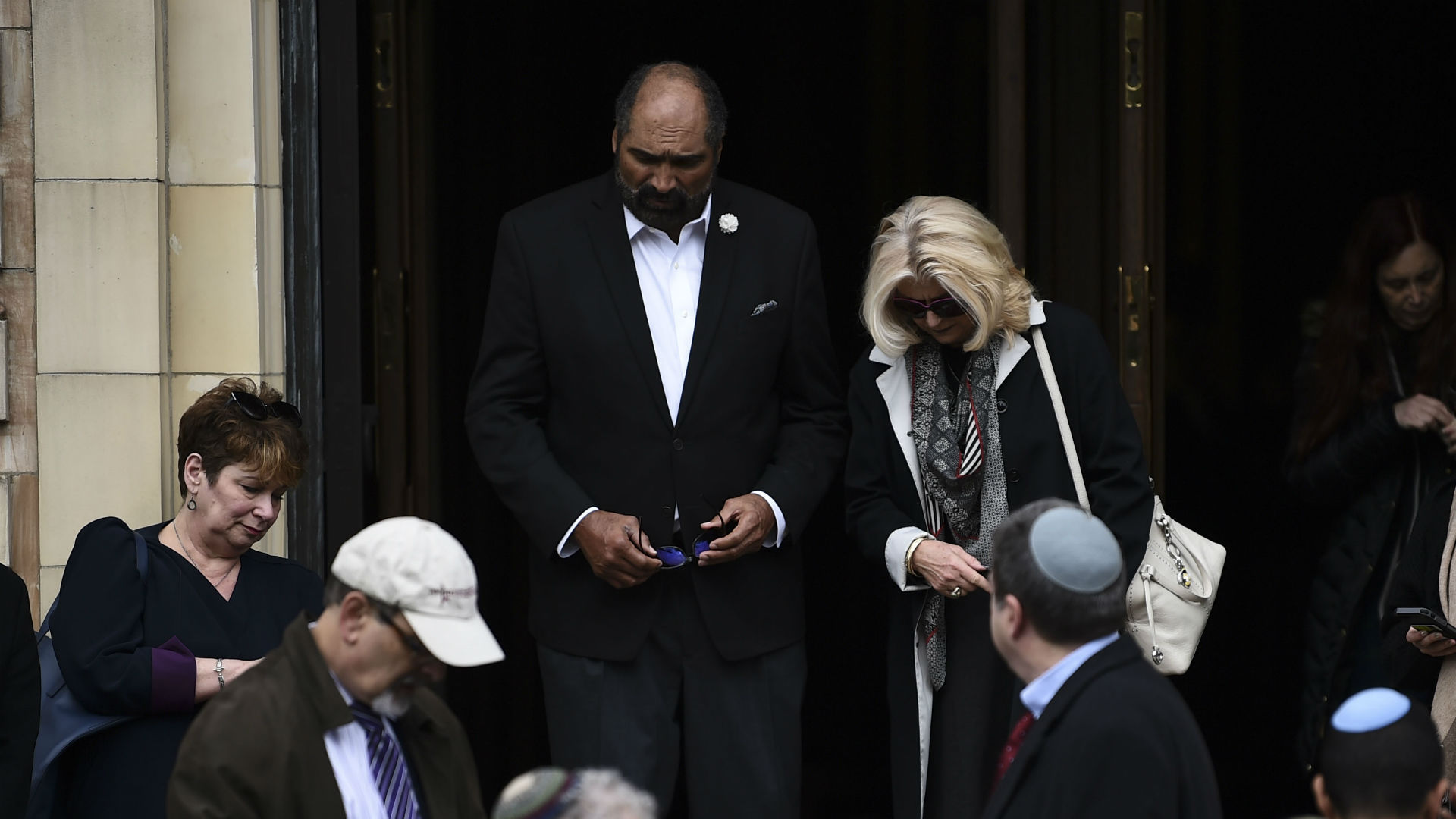 Steelers great Franco Harris (top) leaves the Rodef Shalom Congregation, where the funeral for Cecil and David Rosenthal was held Tuesday. (Getty Images)
In the case of attending the funerals of the shooting victims this week, the Steelers wanted to support the families impacted and help send a message against such senseless violence.
"Words cannot express how we feel as members of the community," Tomlin said.
Added Roethlisberger said after Sunday's win: "It was tough, especially with Michele and the closeness we have with her. We're thankful for the victory, but we also understand there are bigger things — there's life."
Heyward sent a powerful message when he wore a T-shirt Sunday that displayed a combination of the Steelers' logo and a Star of David with the message, "Stronger than Hate."
Many other pro sports organizations do great things in the community. In the Steelers' case, one gets a greater sense that positive PR is far down the priority list; it's really about helping people and using their platform as the city's favorite team to do what they can.
And if they were alive today, Art I and Dan Rooney would be grieving for the victims and standing alongside the other members of the Steelers in their heartfelt response to the tragedy.
Source: Read Full Article