New Orleans Saints 30-20 Minnesota Vikings: Saints gain revenge for playoff defeat last year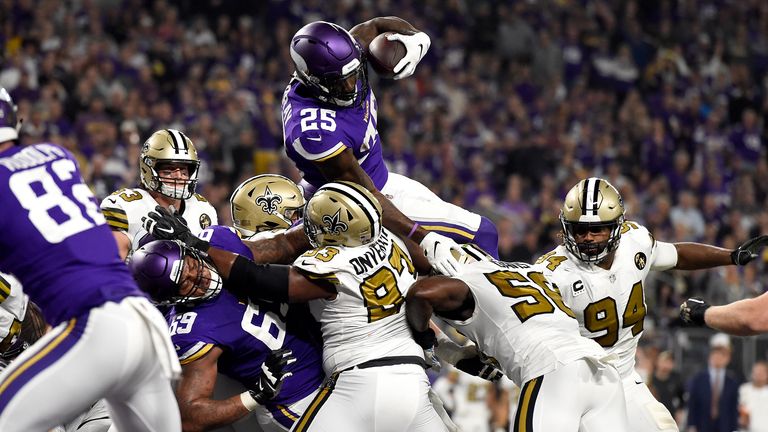 The New Orleans Saints got revenge for their last-second playoff loss to the Minnesota Vikings last year by beating their hosts 30-20 on Sunday night.
The Vikings broke out into a 13-7 lead early in the second quarter after a Kirk Cousins touchdown pass to Stefon Diggs and a Latavius Murray TD run, and they went on to outgain the Saints 423 yards to 270. But, two key turnovers, including a 45-yard interception return for a touchdown by P.J. Williams, helped earn New Orleans the win.
Alvin Kamara also had two touchdowns – one rushing and one receiving – for the Saints, and Will Lutz made three field goals. Drew Brees had a quiet night by his standards, throwing only 120 yards passing.
Diggs had 119 receiving yards and a score in his curtain call after the "Minneapolis Miracle" catch in the NFC divisional round in January, while fellow Vikings wideout Adam Thielen continued his 100-yard game streak to start the season.
Thielen stretched his run to an NFL-record eight games with a 103-yard performance, but his fumble in the redzone in the second quarter was returned 54 yards by Marshon Lattimore to set up the go-ahead touchdown for the Saints, a lead they wouldn't relinquish.
The Saints (6-1) have now won six straight, while the Vikings (4-3-1) suffer a first loss in four.
FIRST QUARTER
Saints 7-0 Vikings: Drew Brees three-yard touchdown pass to Alvin Kamara (Will Lutz extra point good)
Saints 7-7 Vikings: Kirk Cousins one-yard touchdown pass to Stefon Diggs (Dan Bailey extra point good)
SECOND QUARTER
Saints 7-13 Vikings: Latavius Murray one-yard touchdown run (Bailey missed extra point)
Saints 10-13 Vikings: Lutz 52-yard field goal
Saints 17-13 Vikings: Kamara one-yard touchdown run (Lutz extra point good)
THIRD QUARTER
Saints 20-13 Vikings: Lutz 42-yard field goal
Saints 27-13 Vikings: P.J. Williams 45-yard interception return for a touchdown (Lutz extra point good)
FOURTH QUARTER
Saints 30-13 Vikings: Lutz 42-yard field goal
Saints 30-20 Vikings: Cousins one-yard touchdown pass to Adam Thielen (Bailey extra point good)
Game's key stats
Source: Read Full Article