NBA draftee Didi Louzada continues to impress with Sydney Kings
Sydney Kings coach Will Weaver watched his NBA draftee Didi Louzada play at the FIBA World Cup and knew he had something special.
At the NBL Blitz in Hobart on Sunday, Louzada only enhanced those impressions as he scored a game-high 29 points on eight of 11 three-point shooting in a 103-71 thrashing of the Perth Wildcats.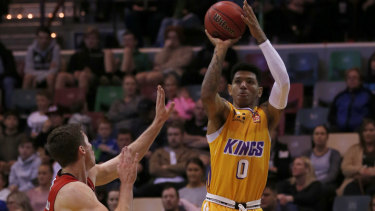 Marcos Louzada Silva shoots during the NBL Blitz pre-season match between Perth Wildcats and Sydney Kings.Credit:Getty Images
The Kings signed the Brazilian guard after he was drafted by New Orleans Pelicans in the second round of this year's NBA Draft, the Pelicans told him to join a team where he could face elite athletes and improve his English language skills ahead of a likely move to the US next season.
Louzada is a Next Stars signing, meaning the league helped lure him to Australia although he appears more advanced in his game than US teenagers Lamelo Ball and RJ Hampton.
Louzada impressed with Brazil at the World Cup starting or playing key minutes and Weaver, who is an assistant coach with the Boomers, said his young star was showing the fruits of his hard work on and off the court.
"I was watching the Brazilian game at the World Cup and it was clear he has amazing talents," Weaver said.
"What's great about his fit in the NBL is his defensive tools and that was a big part of why they drafted him."
Louzada has been working hard on his English language skills and Weaver had several chats with him on court during the game showing he is understanding the instructions from his coaches.
He also mingled with fans post-game taking photos with scores of local Tasmanians.
"Like a lot of us who struggle with a second language, third language in his case – I think he understands better than he can speak," Weaver said.
"But with the support the Pelicans and the Kings have invested in him plus the way he has invested in his own education – he knows progressing his English is a big part of his career.
"So it's one of the things we are working on, just like his [defensive] stance or his rebounding or the way he is shooting the ball. There is a lot to be excited about."
Louzada impressed in the pre-season match against the Wildcats.Credit:Getty Images
Weaver took over the Kings after coaching Long Island Nets in the NBA G-League last season and he said the way NBL sides socialised together was helping Louzada.
"His teammates are going to dinner, having chats and spending time together with him," Weaver said.
"It's something this group is uniquely good at and a big reason why I love the NBL and Australian sport – that team camaraderie and mateship that goes on during road trips."
The Kings played the Blitz without Andrew Bogut who was resting after his long off-season of NBA and Boomers commitments while Perth was without import Terrico White and guard Mitch Norton on Sunday.
With Weaver, Bogut and Louzada missing almost two months of pre-season due to national team duties, the Kings have a lot of work to do to be ready for the new season but Weaver likes their development.
Import power forward Jae-Sean Tate impressed with 15 points and some powerful inside play on Sunday while Kevin Lisch had 12 points and Daniel Kickert 14 points.
The Kings have two more pre-season games before they tip-off their season against Cairns Taipans in Cairns on October 4.
Roy Ward travelled to Hobart courtesy of the NBL.
Source: Read Full Article