NBA: Brandon Ingram, Rajon Rondo & Chris Paul banned after punch-up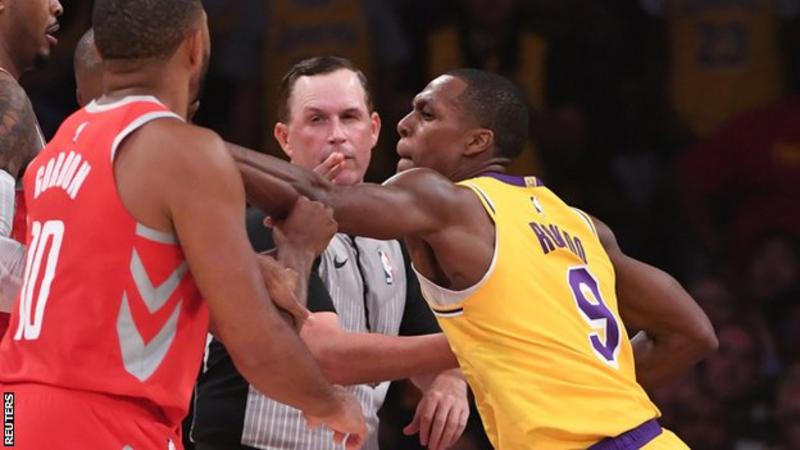 Brandon Ingram, Rajon Rondo and Chris Paul have been suspended by the NBA after a punch-up during the Los Angeles Lakers' defeat by the Houston Rockets.
Lakers duo Ingram and Rondo have been banned for four and three games respectively, while the Rockets' Paul has a two-game ban – all without pay.
Paul said Rondo spat in his face, which led to the fracas that Lakers star LeBron James helped break up.
An NBA statement said all three had thrown punches.
LeBron James plays peacemaker as his Lakers home debut is marred by brawl
"Ingram has been suspended for aggressively returning to and escalating the altercation and throwing a punch in the direction of Paul, confronting a game official in a hostile manner, and instigating the overall incident by shoving Rockets guard James Harden," said the statement.
"Rondo has been suspended for instigating a physical altercation with, and spitting and throwing multiple punches at, Paul.
"Paul has been suspended for poking at and making contact with the face of Rondo, and throwing multiple punches at him."
The game was the home debut of three-time NBA champion James and ended with a 124-115 defeat for the Lakers.
Source: Read Full Article