Melbourne United to face LA Clippers, Sacramento Kings in October
Melbourne United will play in the NBL one week and the NBA the next as the league continues its pre-season series against NBA sides for a third consecutive year.
Melbourne will face the LA Clippers at Staples Centre on October 14 and Sacramento Kings at Golden 1 Centre in Sacramento on October 17. Both games will come right after round one of the NBL season and are expected to be broadcast back to Australia.
The NBL has yet to announce its schedule which is due to come out later this month but Melbourne's staff are already planning their lead-up to the series.
It's understood Melbourne and two other NBL clubs play a total of five games against NBA sides with the full schedule to be announced on Thursday.
Perth Wildcats have already told their fans they decided against playing this year while the Sydney Kings are not believed to be among the teams playing games as they work to shape their star-studded roster including Andrew Bogut, Casper Ware and Kevin Lisch.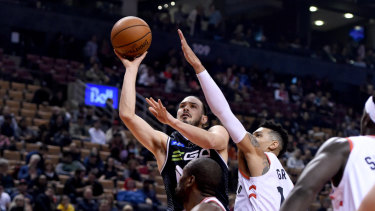 Melbourne United's Chris Goulding in action against the Toronto Raptors last year. Credit:Dan Hamilton/USA Today
NBL chief executive Jeremy Loeliger said his league was proud to be continuing their NBA games for a third year.
"That this series is now heading into a third consecutive year is a reflection of the strength of partnership between the NBL and the NBA and the incredible growth and success of basketball in Australia and New Zealand," Loeliger said.
"The NBL is now one of the premier basketball leagues in the world outside the NBA and we can't wait for October."
Melbourne coach Dean Vickerman said his side could benefit from the in-season tour as they look likely to have assistant coach Paul Henare and several players away with the Australian or New Zealand teams at the FIBA World Cup in China until late September.
"You look at it right now and it could be really good for us to get away and spend that amount of time together," Vickerman said.
Vickerman added that Melbourne would take notes from their first US trip in 2017 when they played in Adelaide in round one then flew to the US to face Oklahoma City Thunder before flying back to continue their season. Melbourne won the championship that season.
"I thought we did a reasonably job in 2017 of making it work," Vickerman said.
"We performed well before we went, performed well over there and performed well when we got back.
"We knew that at some point it would hit us and two weeks after we got back it did, but already we have our management staff on it to make sure we come back in the best health possible."
Vickerman treasures every opportunity to face NBA opposition and the clash with the Clippers means he is keeping watch on NBA free agency as they chase NBA finals MVP Kawhi Leonard.
At time of the publishing Leonard was weighing up whether to remain with the NBA championship winners Toronto Raptors or take up offers to join the Clippers or LA Lakers.
"We thought we would get to play Kawhi last year when we played Toronto but he just worked out pre-game and didn't play," Vickerman said.
"Any time we get to play an NBA team or team from Europe it's a real positive for our players and coaching staff as well – we get to see how our systems stack up against the world's best."
The NBL season will tip off in the first weekend in October.
Source: Read Full Article